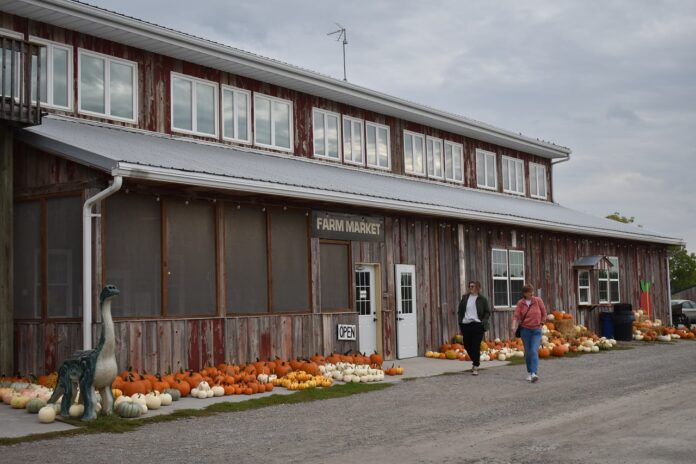 The Linn County Board of Supervisors unanimously approved an ordinance Wednesday, Nov. 15 amending the Code of Ordinances regarding agricultural tourism, or "agritourism," and agricultural experiences in Linn County.
County officials say the new ordinance streamlines the approval process for the majority of agritourism operations, reducing off-site parking requirements and reducing or eliminating application submittal requirements.
The Linn County Planning & Development Department, in collaboration with the Linn County Food Systems Council, and Linn County farmers who already host agricultural experience activities on their property, created the ordinance allowing for a wide range of agricultural experiences on Linn County farms.
Agricultural experiences are agriculture-related activities that promote agriculture or educate the public about agriculture on a farm that is open to the public. The experiences and activities offered are secondary to the agricultural production that takes place on the farm.
Agricultural experiences in Iowa present a unique opportunity to combine the economic benefits of tourism with the state's one-of-a-kind agricultural destinations. Agricultural experiences include, but are not limited to, you-pick operations, corn mazes, tractor rides, food services and event venues.
Examples in Linn County include Kroul Farms and Bass Farms, both near Mount Vernon, and Allen's Orchard in Marion.
Linn County officials have gathered input from agritourism operators in neighboring counties, such as Bloomsbury Farm near Atkins and Wilson's Orchard near Iowa City, to formulate the new ordinance.
Linn County Planning and Development director Charlie Nichols said "agritourism" operations are generally viewed favorably by county officials.
"We think these are good uses in Linn County," he said. "They hit on a lot of our comprehensive plan goals. They also encompass a lot of different activities. Wilson's Orchard is a great example. They do a you-pick operation, they have hayrack rides and live music events almost every weekend. They also have a restaurant and event venue on site. So it's a lot of different things. We think these are good things to have. And when we started this process two years ago, we didn't really have anything in our code that permits these types of uses."
The ordinance also distinguishes between Tier I agricultural experiences, such as temporary roadside farm stands, and larger Tier II operations that may include longer-term ventures such as a winery, brewery, cider mill, distillery, bar or restaurant, farm store, event space, banquet hall, reception facility or wedding venue.
"There's a lot of other regulatory agencies that get involved with these types of operations, such as liquor licenses," Mr. Nichols said. "Often public health is involved if there are food trucks on site or some other types of food items. So our ordinance does state that other permits are required if it's a Tier 2 use."