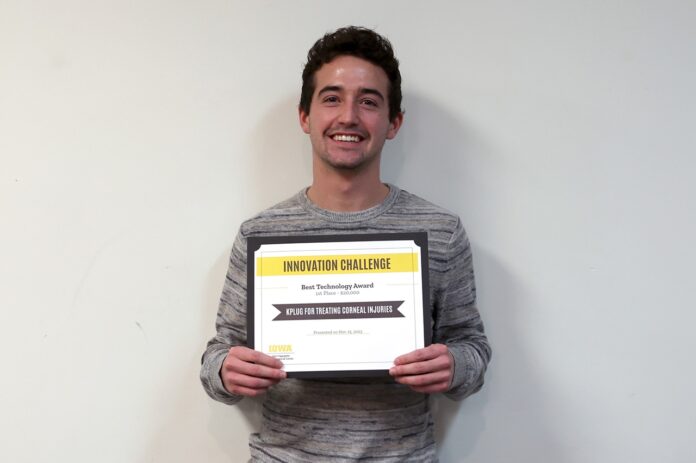 A project that treats corneal injuries won a $20,000 grand prize at the University of Iowa John Pappajohn Entrepreneurial Center (Iowa JPEC) Innovation Challenge Awards event Nov. 15 at MERGE in Iowa City.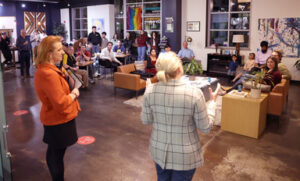 Noah Healy, a UI graduate student seeking an MS in biomedical engineering and currently a design engineer with the University of Iowa Health Care, created kPlug to address the problem of corneal perforations, which won the faculty/staff/graduate student/incubator startup division in the Best Technology category. All together, a total of $74,000 was given in two divisions to support innovation across campus.
Chris Ortman's Healthy Minds, Healthy Hawks, a stress management and wellness program powered by the SMART mobile app, secured the Best Community Impact award, earning Ortman a prize of $3,000.
In the undergraduate competition, Patrick Foster claimed first place in the Best Technology category with Courser, an AI-powered Learning Management System. Tatum Johnson emerged victorious in the Best Non-Technology category with Greenpocket Bags, a venture specializing in portable reusable bags. Both Foster and Johnson were awarded $5,000 each.
A total of 60 University of Iowa-affiliated businesses vied for top honors in the Fall business model competition. Thirty-eight were chosen as finalists to compete on Nov. 13 (undergraduate) and Nov. 14 (faculty, staff, graduate students, incubator startup).
Iowa JPEC serves as the focal point for entrepreneurial education and outreach at the University of Iowa, dedicated to assisting students, faculty, staff, and community members in launching and expanding their businesses.
The JPEC Innovation Challenge Awards brief was reported by Darren Miller, communications specialist with Iowa JPEC.