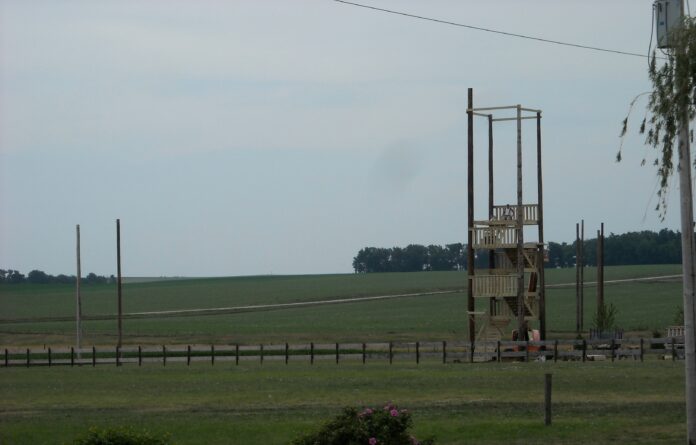 By Pat Shaver
ATKINS — The business has grown much like the produce it sells, at some points gradually and at other times more quickly.
Bloomsbury Farm in Atkins, west of Cedar Rapids, has grown from a flower and greenhouse business into a family destination spot and a place for corporate team-building retreats.
In the beginning, the business was mainly driven by school field trips. It has now become a thriving business and tourist stop that has seven full-time employees from April through December and more than 50 seasonal employees August to October.
The newest additions to the business are a zipline 50-feet high and 700-feet long and a paintball course. There are also expansions to the food and snack shop in the works, said Karen Petersen, co-owner of Bloomsbury Farm.
The Zip, as it will be called, will be one of the longest and highest ziplines in the state and the first in the Cedar Rapids area. The zipline will require a reservation, except during weekends in October. It is currently under construction and will be available for public use in August. The experience includes a ride 700-foot length one way, and then back to the other side, another 700 feet.
Ms. Petersen said the farm has increased its off-season businesses in recent years, doing more corporate events, family reunions and weddings. They have a full catering menu and a kitchen on-site.
The Dry Creek Paintball course is available for groups of four or more through August by reservation.
The business started in 1995 as a florist and greenhouse, Ms. Petersen said. That led to schools bringing classes to visit and learn about the farm.
"In 2000, we decided to grow into a pumpkin patch. We had schools calling us seeing if they could have hayrack rides," she said. When they started, there were about 300 children going to the farm. Now, they have about 5,000 school kids visiting in August and September.
In 2003, the farm started featuring a 10-acre corn maze, a haunted barn and petting zoo.
"It kept growing every year. We noticed a difference in 2008 when we grew 30 percent (in visitors). We went from maybe 10,000 to up to another 30 percent," Ms. Petersen said.
In 2009, though, she said they saw that growth drop to a 10 percent increase in visitors because of weather.
Ms. Petersen categorizes the business in the agritourism industry.
"It's a buzz word in our industry," she said. "It's about pushing positive news on agriculture. It's a hot button issue, how we are taking care of the land. We're conservationists with what we do."
The Learning Barn at Bloomsbury Farm, for example, features educational information about corn and soybeans.
The basic team building package includes a hayrack ride around the farm, use of the party barn and a choice of three other activities. There are also options to use the zipline, catered meals, paintball, scavenger hunt through the corn maze and gemstone mining.
"We have neat events where we have a really fancy meal in the middle of a corn field. We started that last year and we've now booked three more. It's not cheap but it is a real experience," Ms. Petersen said. They host murder mystery dinners and wine nights, as well.
"I see us growing into more events and becoming an event-driven business," she said. "I see a cap (on growth) due to population. We'll grow but only to a certain point. But we are starting to draw more people in fromDubuque,Des MoinesandDavenport, especially for the haunted attraction."
A majority of the customers, though, come from Iowa City, Cedar Rapids, Waterloo and the surrounding areas.
"In terms of numbers, we've grown over the years, last year we had about 30,000 people, plus 7,000 in the haunts. It's grown but it is really weather dependent," she said.
One of the biggest draws to the farm in the fall is the corn maze. Every year, the maze is given a different design celebrating a milestone for local organizations or businesses. Last year, Four Oaks, a nonprofit in Cedar Rapids, was the design for the maze.
The corn is planted in the spring and cut to the design when the plants are fairly short. The design is created on a computer and then transferred into the field.
The farm also features hayrack rides, a petting zoo, a tire maze, an inflatable "jumping pillow," the corn maze, a kid's corn maze, the Learning Barn,WesternTown, duck races, a goat walk, a corn box, barrel train, among other activities.
Scream Acres, which includes a slaughterhouse, corn maze and a carnival, brings in thousands to visitors in October. That aspect of the business employs an additional 70 people.
The farm is located at the home of Ms. Petersen and her husband, Dave. It began as Hagan Farm in 1856, started by Dave's great grandfather, Joseph Hagan.
In 1982, Dave took over operations of the farm, marking the fifth generation of his family. In 2007 the Petersen's bought the farm. The 3,000-acre farm produces corn and soybeans.
For more information, visit www.bloomsburyfarm.com.