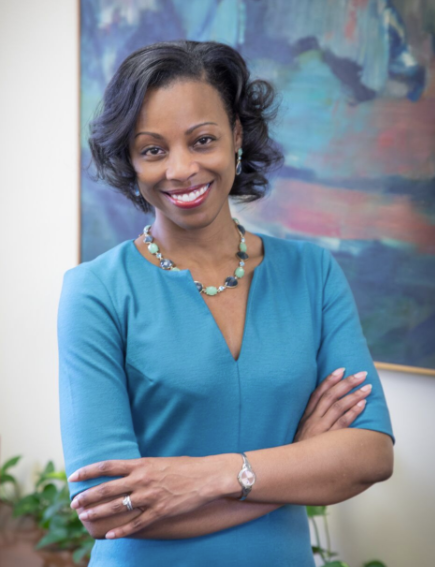 Interim Chief Diversity Officer
Associate Vice President & Senior Associate to the President
University of Iowa
Lena Hill is a rising star in the field of African-American literature, a leader in promoting diversity at the University of Iowa, and soon to become dean of the college at Washington and Lee University in Virginia.
She was once headed for a career in math and science, but her persistence in pursuing her true love of literature is just one way that Ms. Hill has lived as a role model for both young women and African-Americans.
"I didn't go into the corporate realm or into a STEM field," Ms. Hill said. "I went on to get my Ph.D. in English from Yale. I like to mention that, especially when talking to women, to show that we can follow our passions, not necessarily knowing where they will lead us."
Ms. Hill has published three books, contributed six chapters to other books and has given more than 30 presentations on African-American intellectual history. Her work has included numerous analyses of Ralph Ellison and his groundbreaking book, "Invisible Man."
Ms. Hill has also written about Phillis Wheatley, Booker T. Washington, Frederick Douglass, W.E.B. Dubois, Melvin Tolson and Zora Neale Hurston.
She fondly recalls hours – perhaps days – spent digging through archival writings to learn about not only the finished works, but the unpublished scribbles, of many intellectuals.
"To be able to see Hurston's writings in long-hand manuscript … to get to walk alongside her as she is creating a masterful American novel …. That is hard to put into words what a rush that is. I try to share that with my students," she said.
Lynette Marshall, CEO of the UI Center for Advancement, nominated Ms. Hill as a Woman of Influence, calling her impact through the university "indelible."
"Lena's passion to provide students with the highest level of diverse learning experiences to prepare them for success is evident in her classroom as well as her work outside the classroom," Ms. Marshall wrote.
One of Ms. Hill's favorite works is "Invisible Hawkeyes," a compilation of essays about African-Americans who attended the University of Iowa. It's a project she worked on with her husband, Michael, also a professor at the UI.
"It's given me an opportunity to tell a different story about the university," she said. "It's opened up all kinds of conversations with different groups, people rethinking what the history of this institution is, what it means and how it has brought us to where we are today."
Ms. Hill and her husband are also collaborating on another long-term project: their two children. Both have struggled with sickle cell anemia, and their daughter had to have a bone marrow transplant five years ago.
Ms. Hill says her experience facing those health issues has helped her appreciate the Iowa City community.
"Some people go through their whole lives not facing the kinds of challenges I've faced, but also without seeing the kindness and support of so many," she said. "It's kind of like I've been able to see the flip side of going through a difficult moment."
Ms. Hill has worked hard to maintain a commitment to her family and faith, even while her career has taken off. Throughout her time at the University of Iowa, Ms. Hill has taught Sunday school and children's church, and was the director of Christian education at Bethel AME.
"My priorities have never changed," she said. "I really strive to keep my faith first and to remain active in my church. It's important for my kids to see that if you claim to be a Christian, you never get to say you're too busy.
"It means if I travel and get back in town on a Saturday evening, I'll still be showing up Sunday morning to teach five kids in Sunday school," she added. "It's a blessing and it refuels me."
Ms. Hill also goes out of her way to stand up for "the traditional mother" and tries to maintain some sense of tradition even while she becomes busier in academia with her latest promotion.
"You need to write your own definition of success," Ms. Hill said. "Success, for me, still includes wanting to cook dinner for my family on most nights, when some might consider that to be restricted by a traditional definition of femininity."
– Christine Hawes