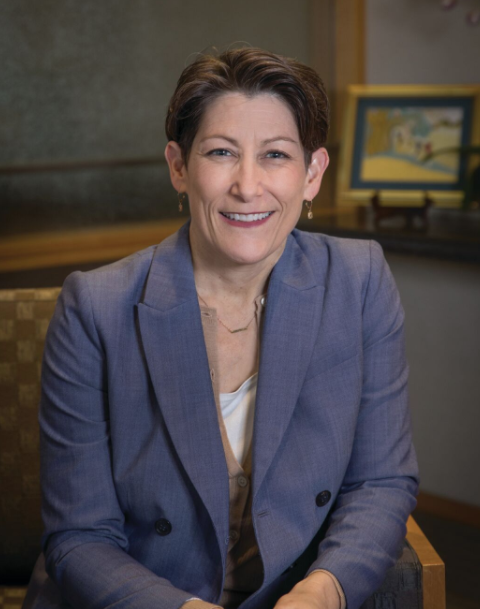 Chief Operating Officer
ACT Inc.
Janet Godwin describes herself as a person who has always been about "getting stuff done." Her rise from entry-level content developer to chief operating officer at ACT demonstrates those words are more than a toss off.
"What brought me to ACT, honestly, was I needed a job," laughed Ms. Godwin, who started in 1990 and has held 14 titles on her way up the ladder at the nation's premier educational testing nonprofit.
"In all candor, I expected to come here for a couple of years, get some work experience, pay off student loans and move on. What captured my professional interest and even my heart was seeing the kind of impact that we had on the customers that we serve – students and people who are transitioning."
Over her 28-year career with ACT, Ms. Godwin went from writing test materials to helping develop the nonprofit's early computer-based testing program – an experience that sent her back to school for masters coursework in instructional design and technology – to operations, chief of staff to ACT's CEO, and, finally, to her current role on the executive leadership team.
"It's just been a curious journey from one interesting project to another," she said, adding that her career was propelled by "always looking for the new big change and trying to get right in the middle of it."
Compass, ACT's first computer-based test, which was used to assess the level of students entering community college before being phased out in 2016, is one of the changes Ms. Godwin is proudest of pushing forward. She was also instrumental in helping to set up ACT's test center network, managing the $20 million implementation of its Oracle E-Business Suite, shepherding the nonprofit through a period of delivery and reporting issues in the early 2000s, and, most recently, moving the company from a paper to digital delivery – including ACT's flagship "national program," the Saturday morning tests still delivered on paper to college-bound students around the nation.
"It's been a constant evolution learning about the company from many, many different angles over the years," she said. "I think that's really helped me in the role I have now – understanding what we do, how we do it, how we're organized and the people that we have, so that we can pull teams together to get good work done."
Ms. Godwin's teammates have nothing but praise for her leadership style, including ACT Principal Communications Strategist Jim Hussey, who said he has never wavered in his first impression of her as "knowledgeable, kind, committed and very, very smart."
She "never shied from lifting up the hood and getting her hands dirty," Mr. Hussey wrote in his nominating letter, which also hailed her willingness "to knock herself out to do things 'the right way' in terms of both process and principle."
Ms. Godwin said she prefers to surround herself with "people who are much, much smarter than me," working in a collaborative, non-hierarchical team setting, and owning mistakes, while acknowledging they are unavoidable and even healthy.
"I'm for giving people the space to try new things, to fail, to learn from those experiences because you're never going be perfect, you're never going to always get it right," she said. "That reflective process of, 'OK, what went well, what didn't go well, how can we learn from this to get better the next time?' That's something I practice and preach – I hope."
Being bold, taking risks and not being afraid to fail is advice Ms. Godwin also gives to other women looking for success in the business world: "If it's making you a little bit nervous, whatever you're taking on, that's good because it means you're pushing yourself."
It's advice she took herself when, combating her natural shyness, she ran for and won a seat on the Iowa City Community School Board last year. Two months later, she was appointed board president.
Ms. Godwin, who served for many years on the district's foundation board, said her run was spurred by concern about the tone and tenor of the current political discourse, as well as "those things I hold near and dear from a leadership perspective: taking accountability, saying you're sorry when something goes wrong, listening, having smart people around you, collaboration and continuous improvement."
Having a strong set of core values is fundamental, she said, to success in and out of the workplace.
"My biggest piece of advice is, know yourself," she said. "Spend time thinking about your values and honing and defining them because they will guide you in every choice you make."
– Katharine Carlon