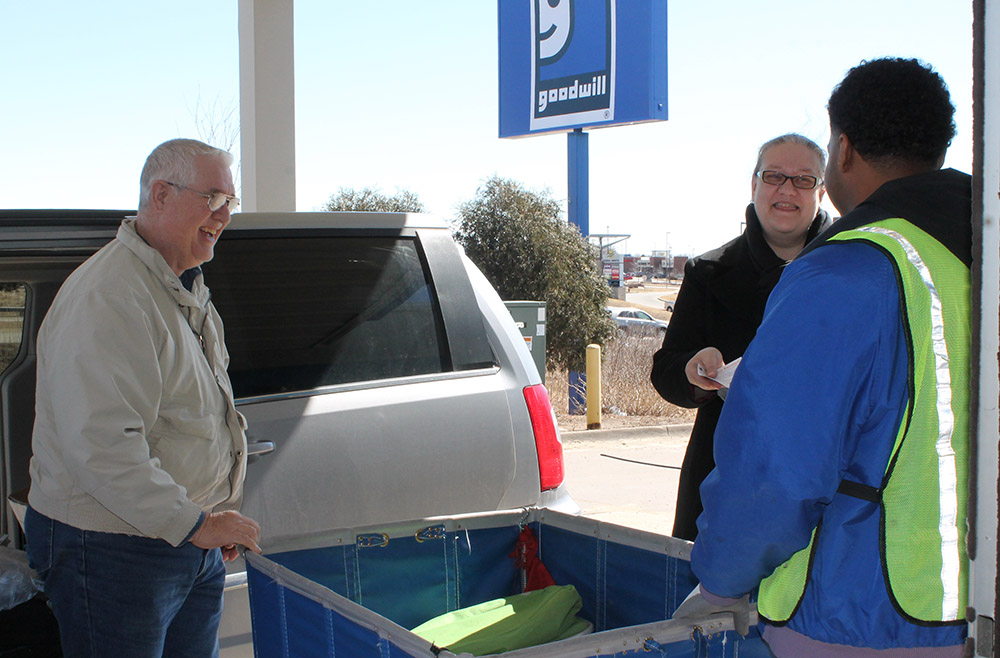 Will McGee (right), a retail store specialist at Goodwill in Coralville, assists donors with a drop off on a recent afternoon. The Coralville location has recently averaged up to 250 individual donations a day – a spike store officials attribute, in part, to a national decluttering craze. PHOTO KATHARINE CARLON
By Katharine Carlon
katharine@corridorbusiness.com
Spring cleaning season is here, and Corridor thrift store operators are bracing for impact after already receiving an unprecedented haul of unwanted clothes, furniture and household items during the typically slow months of January and February.
The reason, in a word, is Kondo – as in Marie Kondo, whose hit Netflix show, "Tidying Up with Marie Kondo," has taken the English-speaking world by storm.
The powerhouse declutterer who encourages viewers to move about their homes asking themselves, "Does this spark joy?" has inspired a deluge of goods to the second-hand market, just as the thrifting trend hits new highs among millennials and Gen Z.
"If you've watched the show, it's appealing and entertaining and it makes you think about whether you want that in your closet or not," said Sara Sundblad, director of operations for Coralville-based consignment chain Stuff Etc. "Usually, this is our slow time – we're cleaning up the stores and waiting for the spring influx. But this year, a lot of people have watched the show and realized they just don't need as much stuff. And it's great for us, we love it."
Stuff Etc., with eight locations statewide, has recently averaged about 250 drop-offs a day on Saturdays at its large Cedar Rapids and Coralville locations, versus fewer than 100 per day in previous years. Ms. Sundblad said the chain's biggest stores in Cedar Rapids, Coralville and Clive typically process 3,000 items a day in the busy summer months "and we've been able to maintain that through these winter months, which is fantastic."
Stuff Etc. is not alone. Nationally, Goodwill stores have reported being drowned in donations since Ms. Kondo's Netflix series premiered Jan. 1. The show teaches packrat families how to organize their belongings by category, including clothes, books, papers, sentimental items, and what she calls "komono" – miscellaneous collections lurking in basements, closets, cupboards and garages.
The spike in goods is difficult to quantify, as Goodwill stores are run by 161 independent organizations nationwide. However, according to news reports, a number of individual branches are seeing notable surges, with stores in Houston, Washington, D.C., and Grand Rapids, Michigan posting increases of between 16-30 percent in January.
Mindy Kayser, vice president of marketing for Goodwill of the Heartland, said the Kondo phenomenon is alive and well in Eastern Iowa, although a spate of treacherous weather slowed things down in February. Ms. Kayser said that Goodwill of the Heartland saw 37,000 donors in the first 21 days of January across its 19-county service area.
"We started January really strong and were thinking it might be a record year – and it still may be," she said. "It kind of fell off a cliff with the weather, but people have been referencing 'Tidying Up' and Marie Kondo, so it's definitely something that's out there."
Goodwill has made heavy use of the Kondo craze in its social media marketing, and hopes once spring has sprung, it will reap the rewards.
"I think the tidying up thing is going to stick around a while," Ms. Kayser said. "It doesn't look like a trend that is losing steam."
Christine Maust Beachy, volunteer coordinator of the Crowded Closet, which is set to re-open March 25 in the former Iowa City Kmart, said her store is also welcoming the Kondo movement as it stocks its expanded location.
"I don't have any anecdotal information like, 'the day the show went out, we got x number of donations,'" she said. "I know places in Brooklyn had donors lined up down the block, and we can't necessarily say that. What I can say is it has been good for us. It's a cultural phenomenon that absolutely does impact our industry."
Ms. Beachy said the Crowded Closet already had a reputation for good stewardship of cast-off treasures, particularly antiques, attracting donors from Cedar Rapids and other places because of the shop's mission and its commitment to thoughtfully working with items.
"Now we see the Marie Kondo thing – the message of simplifying, reducing – and think, yes, this is good for the brand," she added. "This is good for the industry and good for sustainability in general."
Ms. Sundblad said she worries a bit about the flip side of the donations boom – that the decluttering craze will also lead to stalled sales as consumers decide they are disinterested in bringing more items into their homes. But there are no signs of that so far, and the influx of new goods is hitting just as thrifting is becoming a trend with younger customers. According to a report by online resale company ThredUP, 40 percent of people between the ages of 18-24 shopped resale in 2018. The same report predicts the resale market will reach $41 billion by 2022, up from $20 billion in 2017, with annual growth of 15 percent, compared to 2 percent annually for the traditional retail market.
"Throughout my 20 years at Stuff Etc. and just listening to people in our industry, thrift, secondhand and consignment stores don't have the connotations they used to have," Ms. Sundblad said. "Places like Iowa City have always been Earth-friendly and into recycling, but these are good days for us."
A Wall Street Journal article earlier this month suggested the Kondo-inspired decluttering trend was filling thrift stores worldwide with "junky goods nobody wants," but Corridor operators were unanimous in saying that was far from the case for them, urging spring cleaners to keep it coming.
"We take almost anything, gratefully," said Deb Langguth, owner of Bargains Galore in Cedar Rapids, whose store's proceeds go to the Cedar Valley Humane Society. "[Donations] have picked up somewhat recently, but I would like to think it's because people are learning we're here and want to see us stay in business."
Ms. Langguth said she draws the line only at dirty and broken items, joking, "I say, take that to Goodwill." But Ms. Kayser pointed out handling such items actually costs Goodwill money.
"If we get things we can't sell, we have to pay to dispose of them, or if people leave stuff in front of our doors when we're not open and it pours down rain, those destroyed items are of no value to anyone," she said. "We're pretty fortunate though that we usually get quality donations that have value and good, conscientious donors."
"Is everything we touch awesome? No, but that just comes with the territory," Ms. Sundblad said. "And people are so into DIY now, too, so we can offer things that may be less than desirable, and people are willing to fix them up."