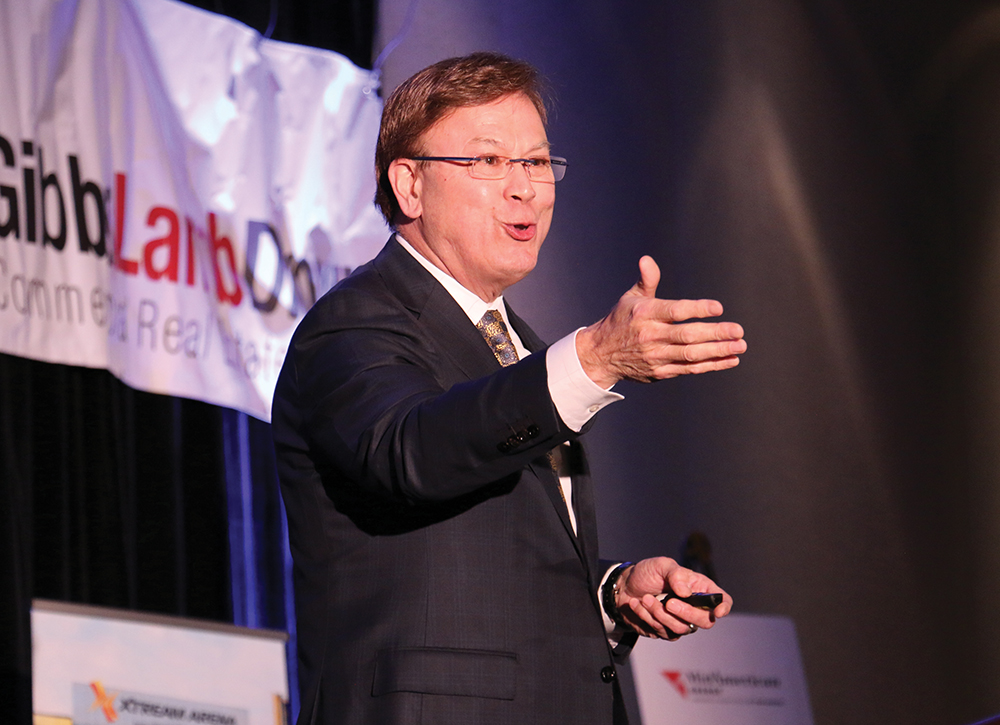 Kenneth Riggs Jr., president of SITUS Real Estate Research Corp., speaking at the CBJ's Commercial Real Estate Luncheon on March 7. PHOTO ADAM MOORE
By Dave DeWitte
dave@corridorbusiness.com
SITUS Real Estate Research Corp. President Kenneth Riggs Jr. of­fered a statistically-based picture of the market at the CBJ's 2019 Commercial Real Estate Luncheon, noting that while returns may decline, the sector is far from a retreat – let alone a collapse.
Mr. Riggs certainly has a bird's-eye view of the commercial real estate market. SITUS RERC, owned by Stone Point Capital, has about 100 professionals providing investment research, valuation and fiduciary services to large investors such as pension funds and insurance companies.
During the current economic expansion, commercial real es­tate (CRE) has been a "powerful" investment and "probably the most favored investment until last year," Mr. Riggs said as part of the March 8 event. Even in 2018, the overall return for all CRE investments was about 7 percent; the S&P 500 Index, stripped of dividend returns, generated a negative 4 percent return.
However, with the economic expansion progressing into a re­cord 10th year and interest rates back on the rise, CRE returns are expected to regress from their recent peaks.
Capital appreciation is declining and cash flow has settled to a slow, steady level of growth, Mr. Riggs said, meaning the CRE market will have to rely on income to drive total returns. Net income growth could be weaker in the future, due to rising expenses and potential capital expenditures that could be exaggerated by a rise in capital­ization rates (net market income divided by current market value).
Among the strengths underpinning the CRE market are indica­tions, based on the Treasury bill market, that interest rates should remain relatively stable, and a lack of undisciplined real estate investing of the type that precipitated the recession of 2008.
"Speaking at conferences starting in 2010, the question they always asked the experts was, 'what's one thing you can tell me will happen next year, that you abso­lutely know will happen in the real estate market?'" Mr. Riggs recalled. "And they said '10-year Treasuries will go up to 3.5 percent.' The next year? Same question, and the answer: 3.5 percent. Where are 10-year Treasuries today? 2.7!"
The performance of commercial real estate has varied widely across different segments, Mr. Riggs noted. Industrial real estate has been "red hot," leading the CRE market. Unleveraged returns on industrial real estate last year were in a range of 15-20 percent.
"If you start thinking about what makes these warehouses successful, they've got to be near major highways, they've got to have the right footprint and the inter­net's important," he said. "These things are pretty tangible to figure out, and they figured it out."
The apartment market has generated strong price appreciation, Mr. Riggs said, and now accounts for about 30 percent of CRE transaction volume. A change in the renter pattern is providing a boost to the apartment market, he noted.
"There's a renter by need, but now what's changed is there's now a renter by choice. That renter by choice has changed the market dramatically."
Part of the appeal to the renter by choice, Mr. Riggs said, is that apartments are "liquid and care-free," he said. Rent­ing can also provide considerable housing cost savings.
SITUS sees fundamentals of the retail segment improving, and expects modest growth this year with rents increasing by about 1.5 percent overall, and capi­tal appreciation increasing over the next year. However, the expectation isn't uniform among the vast array of retail sub-segments.
"We need to step back and say there's a lot of different types of retail," Mr. Riggs said. "We tended to paint retail all together, you know – online retail is killing it all."
While super-regional malls make up the largest single share of the retail mar­ket, at 36 percent, there are fashion cen­ters (14 percent), community centers (12), power centers (11), regional centers (10 percent) and neighborhood centers (8.8). Single-tenant retail spaces are among the smallest segment, at 3.9 percent.
"Remember that landscape is very di­versified, it's very different," he said, ac­knowledging that "it is a tough landscape."
Retail format changes occur on a roughly 20-year cycle, Mr. Riggs said, cit­ing the rise of Walmart and the big-box stores two decades ago. Now, he noted, such big box retailers as Toys 'R' Us are completely gone.
Mr. Riggs also cited the rise and fall of Sears as an earlier example of an Am­azon-like force that shook the industry, rising from no stores in 1925 to more than 300 in 1929 and 5,000 at the company's peak.
"It's all about food and entertainment now for retail," he said, pointing to former Sears and Sears Auto Center spaces that have been broken up into smaller spaces for retail chains such as Dick's Sporting Goods and Land's End. Others have trans­formed into completely different uses, such as a business incubator for startups.
"This has happened before in the retail market," Mr. Riggs said. "Maybe it's being accelerated, but many believe, 'Gosh, this has never happened like Amazon.' But it has happened like Amazon before."
The University of Northern Iowa Center for Real Estate Education was presenting sponsor for the luncheon, held at the Coralville Marriott. UNI graduates make up about 25 percent of the SITUS professional staff, Mr. Riggs said. He had praise for UNI's real estate program, saying it produces some of the strongest talent in the country.