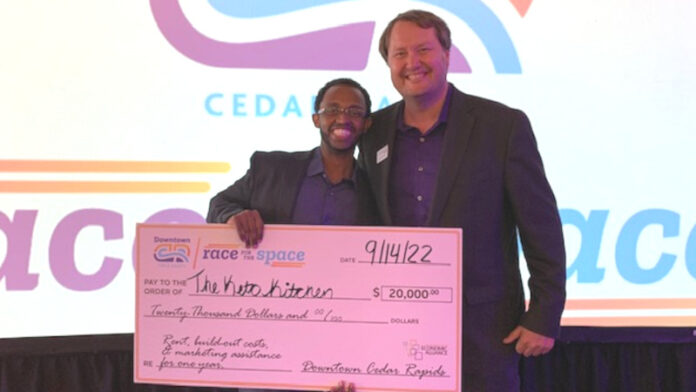 The winner of the Cedar Rapids Metro Economic Alliance's "Race for the Space" program was announced Sept. 14 at a "Shark Tank Finalist" event.
As the "Race for the Space" winner, The KETO Kitchen and owner Mohamed Nasraddin received $20,000, a $7,500 credit towards architectural design services and buildout support from Form Function Studio, a complimentary 8-week owner education course to build a more valuable business provided by BerganKDV, and a one-year membership to the Cedar Rapids Metro Economic Alliance.
The KETO Kitchen offers food that accommodates many different lifestyles and diets, including KETO, gluten-free, whole 30, paleo, vegetarian, vegan, and low-carb. Mr. Nasraddin said he noticed there are very few restaurants that offer options like these, particularly for those with Celiac disease. It is one of the only restaurants that is completely gluten-free.
Mr. Nasraddin said he plans to continue to pursue the American dream while helping people live more active, healthy lifestyles.
"This money will allow us to open our ground zero location in downtown Cedar Rapids," Mr.  Nassraddin said in a news release. "Using our meal prep services, we are excited for the ability to impact thousands of lives locally and nationally."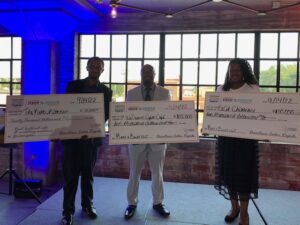 In addition to The KETO Kitchen joining the downtown community, the two "Race for the Space" runners-up, Darcel Pledge with ExCel Childcare Services and Darryl English with weDream Cyber Café, also will have a spot in downtown Cedar Rapids, as they each received $10,000 to go towards rent and build-out.
"The launch of this program has been beyond successful, and every finalist who presented tonight had well thought-out ideas and business plans," said Downtown District executive director Jesse Thoeming. "Because of this, we thought the best move was to present both ExCel Childcare Services and WeDream Cyber Café with a $10,000 check to help get them started on taking their businesses to the next level and becoming staples of downtown Cedar Rapids."
Each "Race for the Space" finalist will get to choose which location they would like their business to call home, with The KETO Kitchen, the grand prize winner, getting first choice. Five different properties throughout downtown Cedar Rapids are up for grabs.
The competition was produced by the Cedar Rapids Metro Economic Alliance and funded by the Downtown SSMID (Self-Supported Municipal Improvement District). "Race for the Space" is one of the first of its kind for the region, with inspiration coming from downtown Ithaca, New York.