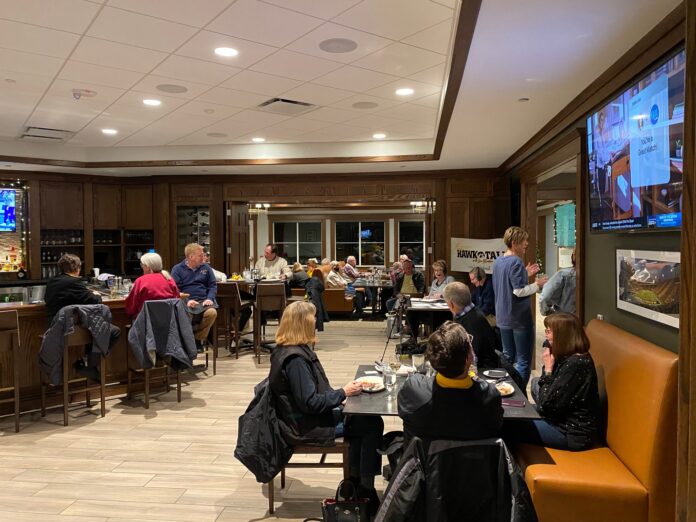 Finkbine Golf Course in Iowa City has introduced a new concept to the city's culinary scene with the opening of Bump's BBQ, Burgers, and Beer. 
Located two miles west of downtown, Bump's features an extensive menu featuring smoked meats, traditional barbeque sides, Certified Angus Beef burgers and a wide selection of craft beer. The new restaurant is located in Finkbine's 19,000 square-foot Nagle Family Clubhouse and is open from 11 a.m.-9 p.m. Monday-Saturday, and for brunch Sunday from 10 a.m.-2 p.m. 
At Bump's, Executive Chef Dan Naso created a unique Midwest-style of barbecue that takes parts of barbecue from around the country. This style includes wet-curing pork from northern Georgia, dry rub from Memphis, hickory smoke from Kansas City, the vinegar tang from the Carolinas, smoked sausage from Louisiana and the sweeter sauces from St. Louis combined with Iowa-raised pork. In addition, Bump's serves fresh half-pound Certified Angus Beef char-grilled patties and its popular tenderloin sandwich. Bump's also offers an expansive selection of local craft beers, imported beers, and traditional American beers, as well as a full bar for cocktails.
Bump's Restaurant is named for Chalmers "Bump" Elliott, who was director of men's athletics at the University of Iowa from 1970-1991, an era when the Hawkeyes won 34 Big Ten and 11 NCAA championships..
To learn more about Bump's or to make reservations, call (319) 335-9662. For more information on Finkbine Golf Course, visit www.finkbine.com or call (319) 335-9246.