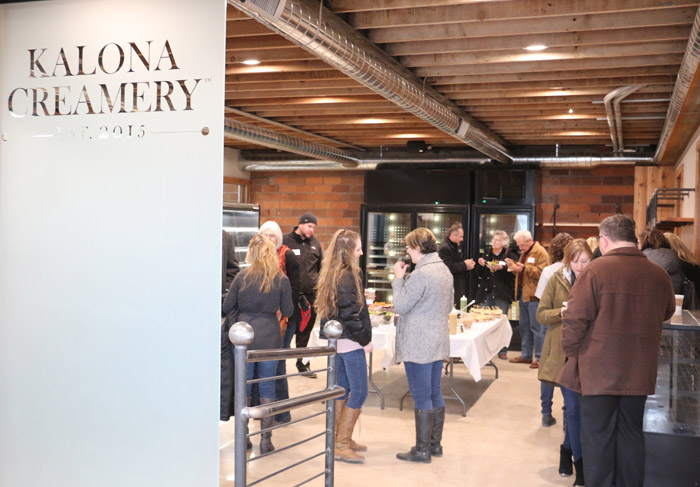 Attendees at the Kalona Creamery Shop & Deli Supporter Sneak Peek held Jan. 12 were treated to menu items from the renovated Kalona Creamery along Highway 1.  PHOTO ANGELA HOLMES
By Angela Holmes
angela@corridorbusiness.com
KALONA—The corner of Highway 1 and 540th Street will once again be a hub of activity for locals and tourists alike, as the Kalona Creamery reopens this week after sitting vacant for more than two years.
"Although it closed, it never really closed," said Craig Vasey, who works in the deli and grocery. "People always had an interest in the place. It's a landmark."
Mr. Vasey served homemade soup to a crowd of supporters invited to a sneak peek of the renovated facility on Jan. 12. Menu items including turkey pesto sandwiches, sweet potatoes, salsa and potato salad were also served.
The former Kalona Cheese Shop, a staple of the area since 1946, closed in the fall of 2014 amidst changes within the dairy industry, such as advanced food safety guidelines, quality assurance requirements and more stringent environmental regulations.
The community was dealt a significant blow after one of its top tourist attractions closed, leaving about 50 workers unemployed.
"It was a shock when it transpired and production ceased," said Ryan Schlabaugh, Kalona City Administrator. "It's such a great destination for Washington County, Kalona and Johnson County."
Johnson County Supervisor Rod Sullivan agreed that the closure left a void in the area's tourism traffic.
"We have received a lot of inquiries about it since it closed," Mr. Sullivan said. "It's great to have it back."
The cheese factory's road back began in May 2015 when Open Gates Business Development Corp., of Kalona, purchased the facility from Ankeny-based Proliant Dairy Ingredients.
Open Gates Group consists of a cluster of companies located in the Kalona area including Kalona Organics, Kalona Farms, Farmers Creamery, Awesome Refrigerated Transit of Iowa and Provision Ingredients.
"Open Gates has done a lot of good things," Mr. Schlabaugh said. "They've been a good employer with good pay and benefits."
At the Kalona Creamery campus, the main building was gutted and taken down to its original bricks, and space was added to the foyer area, said Mindy Seiffert, Open Gates' director of marketing. A milk receiving and separation facility across the street from the main building opened in October, and the production area should be completed this year.
Open Gates CEO Bill Evans told guests at the Jan. 12 preview event that the company plans to make cheese curds yet this year and hopes to have a butter operation running in 2018. The facility's production will focus on artisan cheese made in smaller volumes, which will help keep quality assurance and environmental regulations in check.
The company will start selling its organic cheese products locally, and will eventually expand across the country. Open Gates currently has a presence in 40 states.
"As time goes on, we will have more cheese made here," Mr. Evans said.
Open Gates plans to use the other buildings on the campus, which will eventually be known as Kalona Creamery Corner.
"This is just a start," Mr. Evans said, adding that the renovations were done mostly by the Open Gates staff. "We're committed to this property."
Until the production area is completed, the Kalona Creamery will focus its on deli and catering, as well as the shop, which will stock local products and baked goods.
Store Manager Patrick Brickel said there will be a strong Iowa focus on products, including ice cream from Homestead Creamery in Waukon and, of course, SuperNatural dairy products from Kalona Organics.
The deli and grocery will open to the public Jan. 19 with a grand opening planned Feb. 4.