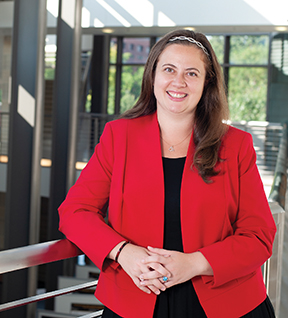 Coordinator of Clinical Outreach and Development
Physician Assistant Program
University of Iowa Carver College of Medicine
AGE: 28
Best advice you ever received?
Always tell the truth.
What do you consider your biggest break so far?
Serving on the National State Farm Youth Advisory Board.
What would most people be surprised to learn about you?
On my dad's side, I am a direct descendant of a Pilgrim on the Mayflower. On my mom's side, I'm a direct descendant of Kaiser Wilhelm II. Ancestry is fascinating to me and I love my history.
What's the biggest issue facing the Corridor, and why?
Brian drain is a real thing. Young people and young professionals need a comprehensive package and leisure opportunities. The Des Moines area and Chicago are fantastic, but we want people to stay in the Corridor.
What are your passions outside of the workplace?
My passions include travel, photography and viola.
What should people know about your generation in the workplace?
We are underestimated. The majority of us really care about other people.
What do you want to accomplish by the time you are 50?
I hope to have made an impact on those around me and inspire the next generation to give back.