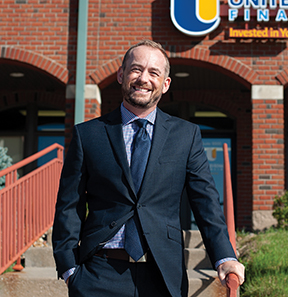 CEO & Wealth Advisor  |  United Iowa Financial
AGE: 38
What's the best advice you ever received?
Rather than focus on what you are good at, focus on what you are passionate about. That will provide your drive each day.
What do you consider your biggest break so far?
Establishing United Iowa Financial in April 2019 really allowed me and our team to change the conversation about what clients and residents of the Corridor should expect from investment and wealth management services.
What's the biggest issue facing the Corridor and why?
The Corridor sits within four to five hours of major cities that do a great job of recruiting away our best talent. For this area to continue to hold onto the hardest working, most innovative professionals, we must invest in infrastructure. We must continue to develop a local landscape that allows them to see current opportunities and future ambitions.
What are your passions outside of the workplace?
I was involved with youth sports as a coach and volunteer for years, and now with my children. I love the opportunity to be outside and help in the progression of individual skills and team success. Being an active father is my most important job and you'll almost always find me on an adventure or activity with one or both of my children.
What should people know about your generation in the workplace?
Engaging the "why" and "how" is what we seek. The opportunity to participate in something bigger than ourselves that has an impact matters more than the paycheck. The investment made into us and our development will be paid forward 10 times.