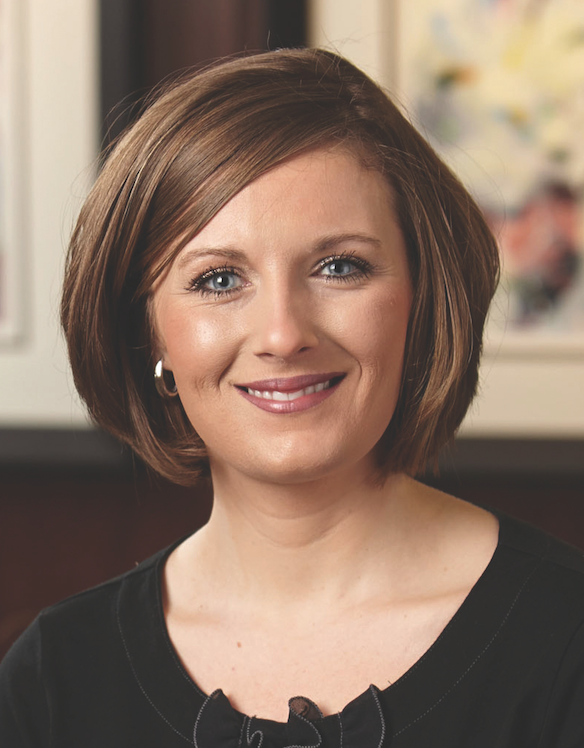 Jennifer Welton
Vice President of Treasury Management, Bankers Trust
The term "go-getter" hardly encompasses Jennifer Welton's relentless drive to strengthen the Corridor community.
Her volunteer credentials run the gamut from NewBo City Market and Indian Creek Nature Center to the American Heart Association Heart Ball and the Especially For You breast cancer walk.
"Each volunteer opportunity has grown and deepened my love for nonprofits tremendously," Ms. Welton said. "These vital organizations can't survive on grants alone – they need individuals to step up and donate time and money. If we don't support them, people can't receive the services they need."
During business hours, Ms. Welton is the vice president of treasury management at Bankers Trust, where she connects commercial and nonprofit accounts with cash management products and services. Over the course of a decade with the bank, she says she has most enjoyed learning about a variety of industries and providing them with financial guidance.
Outside of work, Ms. Welton donates her time, expertise and energy to a wide variety of organizations, including the United Way, Viola Gibson Elementary, Horizons' Meals on Wheels program and the Cedar Rapids Metro Economic Alliance.
One of her first community endeavors was serving as a founding board member for NewBo City Market in Cedar Rapids. She signed on in 2009, when the market was little more than an idea.
"At the time, I knew nothing about building a building or capital fundraising. As a young professional, I also had doubts about the weight of my voice compared to the other senior members," she recalled. "But I just went for it and became entrenched in the project. It has been my greatest experience to date and I am so proud of how the market has changed NewBo into a destination."
During her seven years of service on the market's board, she acted as vice president, treasurer and secretary, while also providing to numerous committees.
"Jen has had to step up between directors and help with everything from day-to-day operations and processing payroll, to event setup and vetting candidates for director," wrote nominator Josh Moore, senior vice president of senior commercial lending with Bankers Trust.
In 2016, Ms. Welton reached her term limit on the NewBo City Market board. She has pledged to remain heavily involved in upcoming projects, however, including an update of the nonprofit's strategic plan and an upgrade of the facility with green technologies, according to Scott Kruger, the market's executive director.
In addition to her passion for community initiatives, Ms. Welton is an ardent advocate of raising awareness and funds for health care research – in particular for multiple sclerosis, breast cancer and premature birth, all of which have impacted her and her husband's families throughout the years. As event chair, she helped exceed the American Heart Association's fundraising goal of $70,000 for its 2014 Heart Ball.
"Jen showed considerable poise and organizational skills to chair the 2014 Heart Ball for the American Heart Association," wrote Pat Deignan, market president for Bankers Trust. "The chair has an incredible challenge each year to meet a large fundraising goal, keep the event fresh and energize the faithful to fulfill the mission once again."
Ms. Welton currently serves as a board member for Indian Creek Nature Center. She is excited to help fundraise for new projects that will continue to provide environmental leadership in the region. She is also energized by the opportunity to include her children in her efforts and show them the importance of giving back.
Ms. Welton's advice to other women is to believe in the power of your voice and learn from ideas that didn't hit the mark.
"No matter your age or stage of career, you can make a difference," she stressed. "I remember how shy I was when I first started at NewBo. But as I grew the confidence to bring my ideas to the table, I found I could do so much more." – Jennie Morton