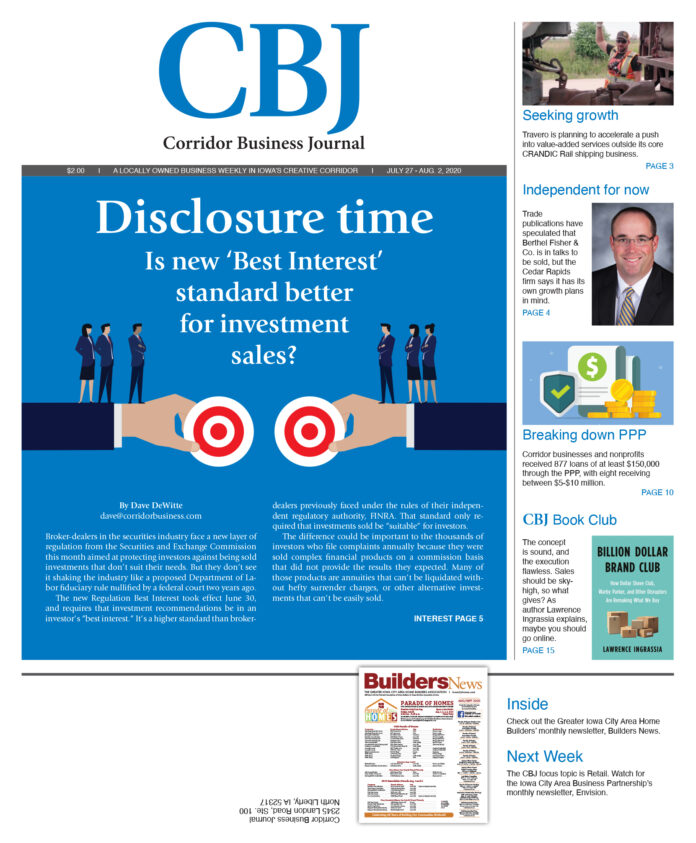 By Dave DeWitte
dave@corridorbusiness.com
Broker-dealers in the securities industry face a new layer of regulation from the Securities and Exchange Commission this month aimed at protecting investors against being sold investments that don't suit their needs. But they don't see it shaking the industry like a proposed Department of Labor fiduciary rule nullified by a federal court two years ago.
The new Regulation Best Interest took effect June 30, and requires that investment recommendations be in an investor's "best interest." It's a higher standard than broker-dealers previously faced under the rules of their independent regulatory authority, FINRA. That standard only required that investments sold be "suitable" for investors.
The difference could be important to the thousands of investors who file complaints annually because they were sold complex financial products on a commission basis that did not provide the results they expected. Many of those products are annuities that can't be liquidated without hefty surrender charges, or other alternative investments that can't be easily sold.
Key provisions of Regulation Best Interest (Reg BI) fall into four main categories:
Disclosure: Firms must disclose their regulatory history of past violations and give customers disclosure Form CRS, containing all material facts relating to the scope and terms of the relationship with the retail customer, including the fees and costs that apply to the customer's transactions and holdings, and limitations on the investment strategies it offers to clients. Form CRS also references other disclosures and includes "conversation starters" for discussing the contents of the document.
Duty of care: A registered representative is obligated to exercise reasonable diligence, care and skill to understand the risks, rewards and costs associated with the recommendation. They must have a reasonable basis to believe their recommendation is in the best interest of a particular customer based on the customer's investment profile, and upon the potential risks, rewards and costs associated with that investment.
Conflicts of interest: Conflicts of interest, such as the fact that the sale of a recommended product would generate a sales commission, must be disclosed. The existence of undisclosed sales bonuses, tips or prizes for sales of certain products could become a regulatory issue when complaints arise under the new rules.
Compliance obligations: Broker-dealers belonging to FINRA are to be tested on their compliance, including their Reg BI disclosure documents and broker education programs.
Reactions to the Reg BI rulemaking covered a wide spectrum, from investor advocacy organizations that found it to provide inadequate protection to investors, to broker-dealers, who were considerably more supportive than they were of the fiduciary rule.
Opinions tended to reflect the commenter's position within the industry. Registered investment advisors (RIAs), who are already required to meet a fiduciary standard of acting in their client's best interest, tended to favor more regulation. Broker-dealers and investment representatives, some of whom call themselves investment advisors, were concerned about their ability to continue selling their products while containing their regulatory and legal exposure.
Wondering how much of a burden Reg BI would be, the CBJ spoke with representatives of three firms from different areas of the investment advisory world.
Transamerica Corp., a leading supplier of insurance and retirement products such as annuities, "was a strong proponent of Reg BI from the outset and commends the SEC on its transparency," COO Jay Orlandi said in an emailed statement. The incremental costs of complying were not significant, in part because Transamerica had already made significant investments toward complying with the vacated Fiduciary Rule, and had been "moving in this direction for some time," he added.
Berthel Fisher & Co. serves a network of 390 investment advisors in 48 states from its headquarters in Cedar Rapids, but it has also been the target of several complaints or regulatory actions regarding sales of complex financial products. The firm had been deeply concerned about the DOL's Fiduciary Rule, remarking in comments on the proposed rulemaking that it could force some of its smaller practices to consolidate or close, that it had spent over $300,000 to develop compliance procedures and that it was concerned about its survival.
The reaction of Berthel Fisher to Reg BI stands in sharp contrast. Andrew Christofferson, CCO of Berthel Fisher, describes it as "costly, but manageable." He says it won't force the company to change its business model, but will likely cause it to narrow the range of financial products it offers within each product category, and increase Berthel Fisher's overall compliance costs by about 10%.
Form CRS (short for "customer relationship summary") was a big part of the compliance effort. The roughly four-page document is "well-conceived," Mr. Christofferson said. The broker-dealer business is covered by various layers of disclosure, he noted, and Form CRS leads clients to other useful disclosures, such as brochures and web content that can help them see a more complete picture.
Preparing the document and related compliance measures was a complex enough task that Berthel Fisher retained one of the largest national law firms to assist in the process. However, the SEC also provided FAQs (frequently asked questions) and ample other guidance for implementation, according to Mr. Christofferson.
"I commend the SEC for having a rule that is workable," he said. "It does bring more disclosure – that is good."
Tim Terry, co-founder and principal of Terry Lockridge & Dunn and World Trend Financial, offered faint praise for Reg BI, saying he still would have preferred the DOL regulation. He noted it falls far short of what could be accomplished to protect investors from being sold unsuitable or bad products. >>>
"The rule is a lot of goofy disclosure, but better than I would have expected from this administration right now," Mr. Terry said.
Mr. Terry believes the current economic climate represents one of those times when insufficient investor protection creates vulnerability. Markets have been volatile, causing many investors to get rattled and worry about staying in conventional investments such as stock-based mutual funds. That makes it easier for them to be sold on complex products like annuities that promise guaranteed returns, Mr. Terry said, even though those returns may not even keep up with inflation. Once they discover they've been sold a product that they should not have purchased, they may find it extremely difficult to get out because of high surrender charges or tax penalties.
Iowa's own 'best interest' reg
The Iowa Insurance Division, which also regulates sales of securities in the state, adopted a state  Best Interest rule on May 11 to require agents selling annuities to act in the best interest of consumers. Iowa was the first state to adopt a state regulation following a model approved by the National Association of Insurance Commissioners (NAIC).
It came as no surprise, since Iowa Insurance Commissioner Doug Ommen had been an active participant in creating the NAIC model regulation, and believes it's an important step forward in the state's regulation of annuity sales. He also plans to work with other state insurance regulators to require that Iowa insurers writing annuity business in those states provide the same investor protections.
"It's really important from our perspective that customers are able to come in and get the same level of professional quality standards, the same investor quality advice, that they would expect through the securities distribution model," Mr. Ommen said. "When I say securities distribution, I mean both the investment advisor as well as those that are registered representatives or registered broker-dealers."
Mr. Ommen said the state version places an emphasis on requiring documentation of the basis for a recommendation of annuity products to a client. Although the documentation requirements were opposed by some in the industry who considered it unnecessarily burdensome, he is adamant that annuity sales are a kind of sale that warrants it.
Beyond issues of their complexity, he said annuities are not traded routinely or regularly like many investments, and are intended to be held as long-term investment. As a result, he said, having the history of why a particular annuity was recommended can be important. He believes it will also be useful in monitoring the implementation of the new regulation.
Beyond that, Iowa's Reg BI has much the same regulatory emphasis as the SEC's.
"We created a much clearer care obligation, and I would describe that as part of 'best interest," Mr. Ommen said. "The care obligation is the professional conduct standard. It has to do with the quality and it is measured in regards to what is acceptable – reasonable – in market behavior."
For Mr. Christofferson, of Berthel Fisher, one of the good things about having a state Reg BI is that it "levels the playing field somewhat" between insurance agents and investment representatives who are covered by FINRA standards, because annuity sales is an area in which they sometimes compete.
Is fiduciary rule dead?
With Reg BI in effect, the broker-dealer industry isn't exactly breathing a huge sigh of relief. That's because many state regulators don't feel it adequately protects investors, and fiduciary rule proposals have sprung up in states like Massachusetts, New Jersey and Nevada.
Mr. Ommen doesn't plan to follow their lead in Iowa. He tends to agree with many in the broker-dealer industry that a fiduciary rule could limit the options of middle-income citizens for getting investment advice. Many professionals who offer financial advice on a fiduciary basis, for instance, charge an annual fee for their services, or if they manage a portfolio, impose a minimum asset size on the portfolios they will manage, and charge a percentage of the assets. That could leave out investors without a lot of savings or ability to pay for fee-based services on an ongoing basis.
Mr. Ommen compares the situation to requiring a brain surgeon, when all a patient needs is a doctor.
"I do not agree with the premise that the fiduciary mandate fits every person," he said. "It just doesn't. A lot of middle-class Americans are better off in a commission-based
Jay Orlandi, of Transamerica, said the company would prefer not to see states adopt their own fiduciary rules, preferring a nationally "harmonized standard of care" for investors.
"A patchwork of state regulatory rules that sets varying standards and demands different documentation and system requirements adds unnecessary complexity and burdensome costs," he said. "In addition, such a complex and costly system will have a particularly adverse impact on small investors and the underserved markets."
Mr. Ommen said the implementation date for Iowa's Best Interest rule has been held up due to COVID-19 at the request of industry commenters. He said the insurance division is taking the approach of providing guidance and helping the industry advance its procedures to comply, but he believes in strong enforcement to protect consumers and ensure even compliance among competing firms that sell annuities.   CBJ