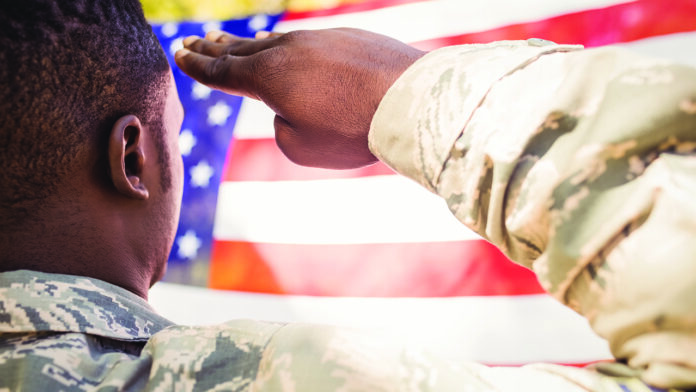 Did you know that IowaWORKS can help your business recruit veterans who may have specialized training they acquired through their military duty? Our veteran staff can help you tap into this unique labor pool. 
Tracie Timmerman is the Local Veterans' Employment Representative (LVER) who serves 35 counties in Eastern Iowa to connect businesses with American Job Centers in Burlington, Cedar Rapids, Davenport, Dubuque, Iowa City, Mason City and Waterloo.  
Ms. Timmerman retired from the U.S. Air Force after serving 26 years in the human resources field. She advised on job specialties, promotions and training programs. She also counseled airmen and provided resources to help them achieve their career goals. Her career culminated as a command chief specializing in professional education for enlisted personnel. 
As the LVER, Ms. Timmerman conducts outreach to employers and business associations to advocate for veteran employment with business leaders. Outreach activities include to:  
Plan and assist in career fairs. 

Coordinate with unions, apprenticeship programs and business organizations to promote employment and training programs for veterans. 

Provide targeted referrals to employers.  

Assist with posting job orders in IowaWORKS. 
Ms. Timmerman can be reached at (319) 753-1671, Ext. 30463 or tracie.timmerman@iwd.iowa.gov
While the LVER advocates for veteran employment, the Home Base Iowa (HBI) Career Planner prepares veterans for new opportunities. 
Rihlen Mital, HBI career planner, also serves Eastern Iowa helping the military community find meaningful employment.
Mr. Mital served six years as a project manager in the U.S. Air Force, stationed in the United Kingdom and Japan. His military career took him to 30 countries as a motivational speaker, airmen mentor, tour manager and chaplain coordinator. Currently, he is a member of the Air National Guard, where he works in human resources. 
Mr. Mital can assist with career preparation, job search or learning new skills. Services include:   
Resume building.

Translation of military skills to marketable job-search language. 

Access to hiring managers.

Career and job counseling.

Access to Labor Market Information.

Connect with Veteran Affairs for related benefits. 
Mr. Mital can be reached at (563) 445-3200 Ext.43306 or rihlen.mital@iwd.iowa.gov. 
Martha Garcia-Tappa is a business engagement consultant at IowaWORKS in Davenport. She can be reached at (563) 445-3200 Ext. 43311 or martha.garcia-tappa@iwd.iowa.gov.