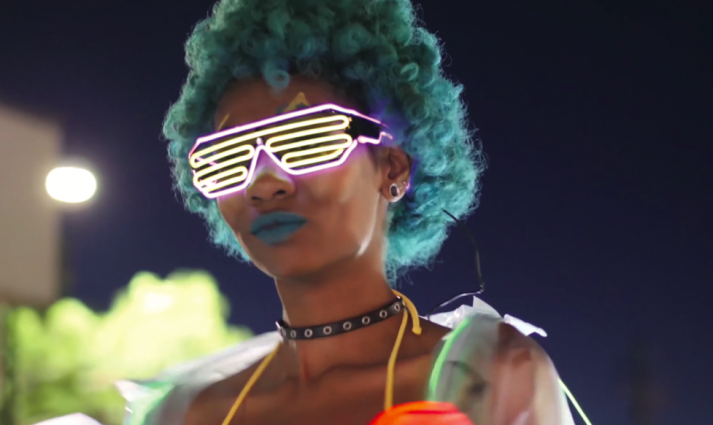 A glimpse of the LED-accented accessories produced by Mr. Wetzel and Mr. Wright as part of the Fashion 500 show, held in June as part of Iowa City's Downtown Block Party. CREDIT ERIN CRAWFORD
By Adam Moore
adam@corridorbusiness.com
A new competition in Iowa City aims to explore the intersection of technology and fashion with a little help from the creatives in Iowa's Creative Corridor.
Designer Andre Wright, creator of clothing label Born Leaders United, and James Wetzel, a particle physicist at the University of Iowa and founder of Ob Design Group, are partnering with Mark Ginsberg of M.C. Ginsberg to develop a new competitive concept called the Fashion Lab, wherein two teams will have six weeks to develop a new wear-
able tech product.
Mr. Wright and
Mr. Wetzel will each
lead a team of creative professionals,
who will pick their
own work schedules and team structure. During the day, Mr. Ginsberg will pro- vide workspace and train people to use the nearly $400,000 in welding, casting and fabrication equipment found in the second floor of his downtown shop. Team members working after hours will also have access to the new MERGE space on the Pedestrian Mall.
The intense creation exercise will all lead up to an Oct. 31 unveiling at the Halloween Runway Fashion Show, to be held in downtown Iowa City.
The goal, organizers said, is to bring together 10 Corridor creatives with different backgrounds to "participate in creating the future of fashion." They're looking for artists and professionals from a range of backgrounds, including fashion designers, seamstresses, engineers and computer programmers – "people that have the energy to produce some- thing," Mr. Wetzel said.
"We know there's creative people in the area; we know they're just waiting for the opportunity. We're just giving them a little kick," he added.
The concept evolved out of separate collaborations among the trio. The first was between Mr. Ginsberg and Mr. Wetzel, and involved the building of small sculptural pieces capable of detecting muons, a type of subatomic particle. As muons passed through the sculpture, an LED would light up.
"The idea was to let you know you're not alone," Mr. Ginsberg recalled, adding that the concept could be miniaturized into stud sets for a truly unique piece of jewelry.
Mr. Wetzel and Mr. Wright connected earlier this year to create glowing LED jackets and accessories that "people were freaking out about" at June's Downtown Block Party in Iowa City. That led to discussions about what they could do next, and how they could leverage M.C. Ginsberg's extensive fabrication space.
For Mr. Ginsberg, who regularly works with innovators from the UI and the private sector to create one-off models and proofs of concept, the Fashion Lab concept represents an opportunity to help train some of the area's emerging design talent and explore new mediums.
"It's not a money-maker for us, as much as, 'let's explore some ideas of newer intersections,'" Mr. Ginsberg said. "Fashion and jeweler y have always been very close to each other, but they haven't always come into the same environment and worked with each other."
"We're not the first ones to do that, but we are the first ones to include a mentoring/apprentice program for jewelry and fashion in the same space and to allow this kind of use of equipment," he added.
The competition officially kicks off Sept. 18, although there's plenty left to do, its organizers say. Teams are being formed and finalized, and Mr. Wetzel and Mr. Wright are now looking for local sponsors interested in supporting the competition. A prize may be offered to the winning team, although the larger goal is to get their idea into production, possibly for the stagecraft or theater markets, Mr. Wetzel said.
Iowa City's local public access network,PATV, will also record some of the teams' experiences, with the idea of eventually producing a mini-doc on the Fashion Lab – a perfect t for the inherently dramatic process of experimentation.
"The applications [of the Fashion Lab concept] are further-reaching and entertaining," Mr. Ginsberg said. "I think you can look at this space and what we're trying to do here as drama and theater, as much as creating a physical object."