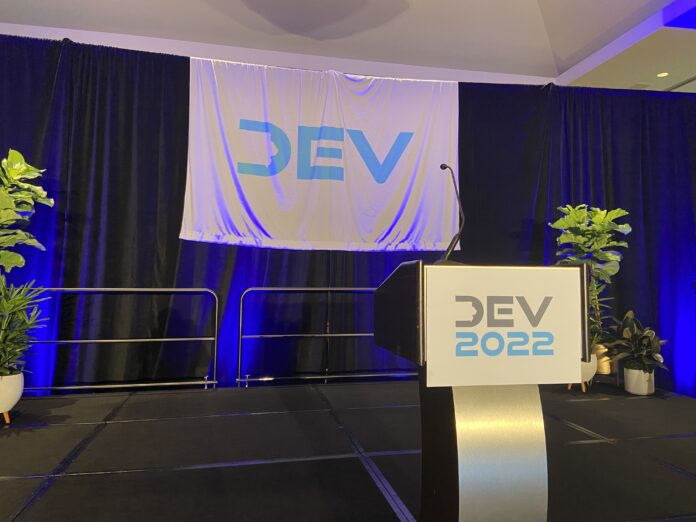 For organizations willing to take the initiative, looking into new technology like renewable energy and electric vehicle (EV) programs could have a huge payoff, according to speakers at the Iowa Utility Association's annual conference.
"We are facing a point in time in Iowa that is like no other," said Rob Wozny, electrification program manager for Alliant Energy. "We have about a five year window where we're going to have a tremendous amount of opportunity and funding available for those who want to take action, become prepared and go after the funding. You're either going to get involved and go after the funding or you're going to be scratching your head afterwards saying, 'God, I wish I would have done that."
Mr. Wozny, during his presentation at DEV 2022, the Iowa Utility Association's annual economic development conference, described a set of environmental conditions — including private and public pressure to address climate change through reducing emissions, as well as new funding toward EV technologies — that contribute to this effect. He says Alliant's account managers work with customers to capitalize on these unique opportunities by helping businesses electrify their fleets, identify grant writing services and by providing workplace charging for employees.
Making the shift to newer technologies will likely have a profound impact on the bottom line, he explained.
[Read more: Gov. Kim Reynolds announced a $25 million Child Care Incentive Grant Program at DEV2022]
Renewable energy
A panel consisting of county supervisors, landowners and economic development professionals spoke during DEV2022 on the importance of the private and public sector working together to reach renewable energy goals in the next decade.
"We know people want renewable energy, but there's also been this built up opposition across our country," said Kathryn Kunert, vice president of economic connections and integration. "We have to have renewable energies to be able to support our customers or other baseload generation as we continue to decrease what we have produced through thermal generation."
MidAmerican Energy produces 88.5% renewable energy on an annual basis, she said.
Procter & Gamble has partnered with local government and energy utility companies to obtain the needed zoning and building permits for building facilities in Johnson County.
"We buy renewable energy certificates (RECS) to ensure that our sites are 100% renewable energy and so for Iowa City we are 100% renewable energy," said Marvin Sims, director of facilities and utilities for P&G.
[More from DEV2022: 'I don't see a recession on the horizon,' says economic futurist]