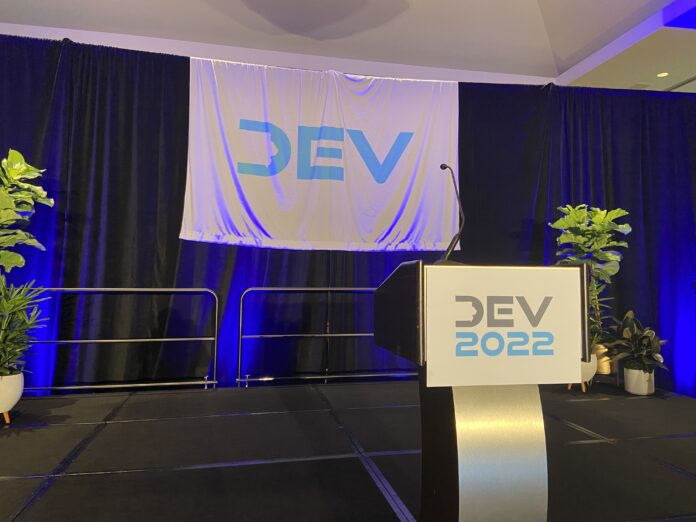 Iowa has dealt with the ramifications of major world issues — including COVID-19, supply chain woes, inflation, the price of housing, war in Ukraine, worker shortages and more — but economic futurist and current outside economic advisor to the White House Andrew Busch believes the market will be able to withstand these challenges.
"The U.S. is supposed to run at about 3% GDP," said Mr. Busch during his keynote speech in front of 360 attendees at DEV2022, the Iowa Utility Association's annual economic development conference. "I don't see that happening. The next quarter should be 2.2%. I don't see a recession on the horizon this year. There's way too much forward momentum in the U.S. economy and there's way too many unknowns that could get resolved."
Although quick to preface those comments ("Economists stink at predicting the future," he says), he pointed to the country's bipartisan infrastructure bill signed into law by President Biden as an example of policy that should have a positive impact.
$4.3 billion of the $1.2 trillion dollar bill is expected to positively benefit Iowa through a $3.4 billion investment in state highways, $432 million in bridges and repairs, $305 million in public transportation, $100 million in broadband investments and $51 million in an electric vehicle charging network.
While he said trade policy is so far largely the same under President Biden as it was President Trump, he said the biggest difference between the two leaders is the shift in energy and environmental policy – warning stakeholders they need to prepare for how a 2035 Carbon Neutral Grid and the 2050 Net Zero Emissions target will impact their industries.
"I look at money flows and one of the things I look at is funds targeted toward environmental, social and governance (ESG)," he said. "It's expected to be $50 trillion by 2030. "That's a lot of opportunity for you…to look at where these companies are placing their bets, where you are looking to fund certain projects. You want to be part of that."
IEDA promotes Iowa in advertising campaigns
The Iowa Economic Development Authority (IEDA) recently completed a seven week national advertising campaign to promote the State of Iowa. The goal of the campaign was to attract tourists and potential workers to address the state's workforce shortage.
Research in 2019 found that most people don't know enough about Iowa, said IEDA Chief Strategic Communications Officer Staci Hupp Bullard during a breakout session at DEV2022.
A television advertisement called This Is Iowa aired nationally and generated 155 million impressions in seven weeks. Other tactics included a multimedia strategy consisting of social media, streaming services, billboard ads and magazines, working with influencers, among other channels. The IEDA relaunched an ad campaign this spring.
Since airing the ad and finishing other promotional efforts, research consumer perception has changed. IEDA internal data shows that positive perceptions of Iowa have increased 20% and negative perceptions have been halved, with people substantially more likely to visit and stay in Iowa than before, said Ms. Hupp Ballard.
"We truly are moving the needle," she said.