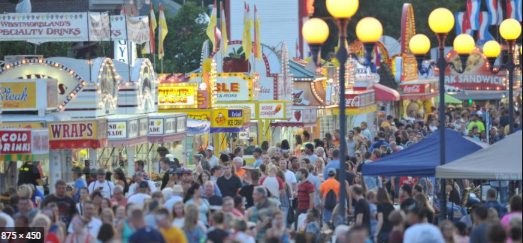 CREDIT: Iowa State Fair
By CBJ News Staff
corridorbusiness.com
The largest single event in Iowa won't be held this year.
The Iowa State Fair, which usually attracts more than 1 million visitors, joined a list of state fair cancellations across the nation Wednesday. The Iowa State Fair Board preferred in a press release to call it a postponement.
"The top priority of the Iowa State Fair has and always will be to protect the health and safety of Fairgoers," Iowa State Fair Manager and CEO Gary Slater said in the release. "While the decision of the Iowa State Fair Board today will certainly come as a disappointment to many, the board determined that holding a fair in accordance with current health guidelines related to COVID-19 wasn't feasible."
The board said it had delayed making the decision as long as possible, but felt it needed to make the announcement in time for exhibitors and fair-goers to revise their summer plans.
Among the performers that had been booked for the 2020 fair's grandstand events were Keith Urban, The Beach Boys and Styx. CBJ