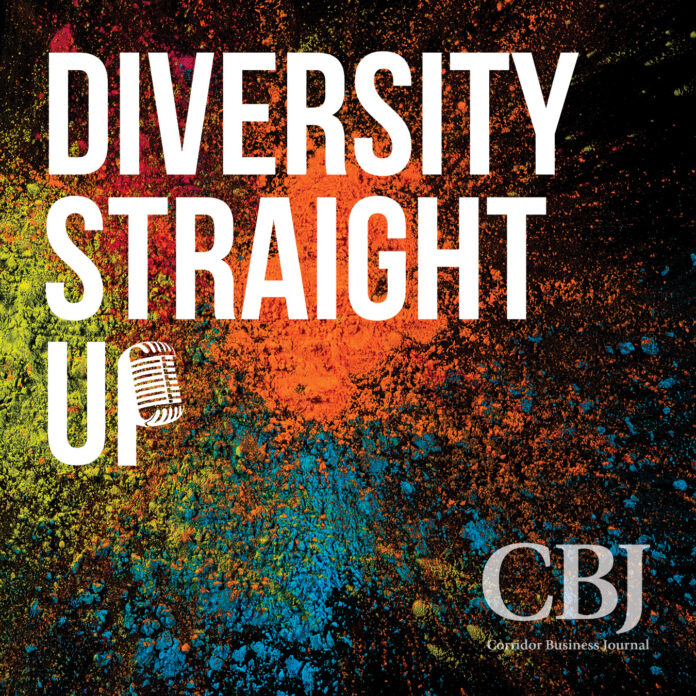 In the latest episode of "Diversity Straight Up," hosts Sarika Bhakta and Anthony Arrington take the show live for EntreFEST 2020 in Cedar Rapids, with guests Pernell Cezar, Sona Raziabeegum and Jacob Hsu. They talk George Floyd, bias, stepping outside of your comfort zone at life and work, and the role of diversity in innovation in this special edition of DSU.
Listen below or subscribe to the show at SoundCloud, iTunes, Spotify, Google Podcasts and Stitcher. Diversity Straight Up is presented by Collins Aerospace, the city of Cedar Rapids and Alliant Energy.

About the guests:
Pernell Cezar is the CEO and Co-Founder of Blk & Bold, a social impact driven coffee/beverage brand that is nationally distributed at Target and other retailers. Pernell is an accomplished sales executive, successful entrepreneur and leader with more than 10 years of leadership success, significantly in retail. His diverse portfolio which spans from merchandising and negotiations at Target Corp, sales and business development at SheaMoisture, the world's 2nd largest natural beauty product brand, and more highlights his ability to influence and build brands at scale whether start-ups or multi-national brands. Blk & Bold recently achieved 2019 Des Moines NAACP Small Business of the Year.
Sona Raziabeegum leads digital strategy for the John Deere Intelligent Solutions Group (ISG), where she develops precision ag digital products that create competitive edge, unlock value and drive profitable growth for John Deere's customers. Sona comes with a 12-year background in strategy, technology and agriculture. She holds an MBA from Kellogg School of Management at Northwestern University, and a BS in Electrical and Electronics Engineering from College of Engineering Trivandrum, India.
Jacob Hsu is CEO of Catalyte, a workforce data science company based in Baltimore, Maryland. Prior to joining Catalyte, Jacob was chief executive officer at Symbio, a global IT services company. Jacob was also chief executive officer of Trilogica and chief executive officer of Epitome, and began his career in investment banking. He was selected to be a Young Global Leader by the World Economic Forum and was named as one of the world's Top 12 CEOs by Chief Executive Magazine.
About the hosts:
Sarika Bhakta is president of Nikeya Diversity Consulting and a Certified Diversity Executive with more than 20 years of experience in leadership, management, talent attraction/retention and resource acquisition/development. Born in Gujarat, India and raised in the Midwest, Sarika empowers leaders to identify their authentic self to be successful change agents in today's global economy.
Anthony Arrington is co-founder and managing partner with Top RANK Professional & Executive Search and Consulting, a search firm focused on helping companies acquire professional and executive-level talent, with a special emphasis on diverse and inclusive leadership. He has more than 20 years of experience in management, strategic planning, leadership and staff development in both the for-profit and nonprofit sectors.