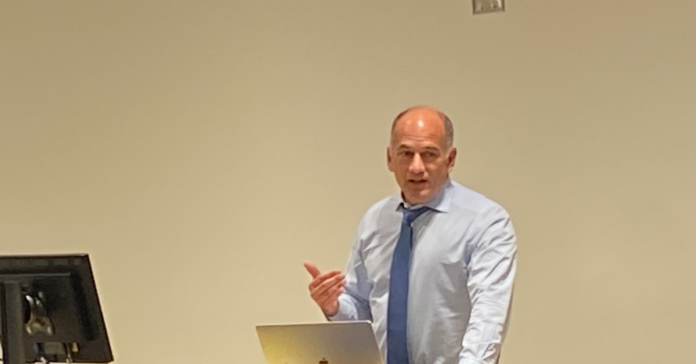 The message spread by medical-professionals-turned-business-owners at the Iowa Medtech Innovation Symposium, an event by the University of Iowa on May 6 meant to highlight innovators with a significant impact on patient care, was simple: Sometimes it's all about luck and timing.
"It's not just having a good idea," said Arthur Krieg, the founder of Checkmate Pharmaceuticals, a biopharmaceutical company focused on treating cancer that was recently bought for $250 million by Regeneron. "Timing is critical. Right now, the biotech markets are bad, really bad. That doesn't necessarily mean that it's a bad time to start a company because venture capitalists (VCs) have a lot of money… but it creates an extra risk factor of uncertainty in their minds."
He also stated the importance of the team element, saying it's more important to have an "A "team with a B idea" than vice-versa, as those are more often the businesses that succeed in the medical space.
"Anyone can spot a trend," said Christopher Caldarone, the Chief of Cardiac Surgery at Texas Children's Hospital and was a co-founder of CellAegis. "Ideas are cheap. What you want to do is assemble the right team and manage your strengths and weaknesses."
A collection of five speakers spoke about their winded career paths and offered advice to audience members looking to impact patient care from an industry perspective.
"The short story is you never know what the path is going to be," said Leslie Williams, the founding CEO of hC Bioscience, a leading company in protein editing with tRNA-based therapeutics. 
"Only .1% of drugs make it from the lab to the market," Ms. Williams said, explaining the importance of understanding the difficulties from the onset of a project. She also said the advances of COVID-19 vaccines increased awareness and acceptance of tRNA technology, which was good timing for her company.
"Sometimes I've heard people talking about going into industry is the dark side," said Mr. Krieg. "I don't think it is the dark side. I think of industry as the light side because the great discoveries that occur in academia are not going to turn into drugs by themselves.
Expect more venture capital investments in the region
Drew Oetting has invested in several Iowa companies (including hC Bioscience) as founding partner of 8VC, a renowned investment firm, and he says 8VC is always listening to new pitches.
"We focus on early-stage, so we want to be the biggest, baddest, early-stage VC," he said during a fireside chat. "That means we build companies alongside founders from day zero … but the idea is we want to take tons of risk."
When asked if Iowa startups may see more funding from 8VC in the future, Mr. Oetting said that "definitely" could take place.