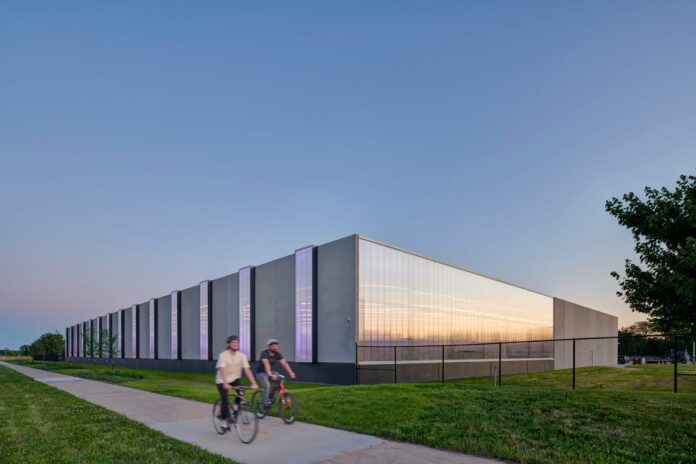 Neumann Monson Architects won the Committee on the Environment (COTE) Top Ten National American Institute of Architects (AIA) award in April for its work on the Iowa City Public Works facility.
Citing efforts to achieve climate action and justice through design, the award signifies the new facility is considered innovative by national standards.
It is "highly unusual" for a public works facility to win the COTE award since it is usually given to education buildings, libraries and museums, according to a press release. COTE Top Ten highlights sustainable design excellence each year.
The $11.3 million project on a 14-acre site is Iowa City's attempt at modernizing public works services in need of new equipment and significant safety upgrades.
Advantages of the facility include:
A centralized location for shops, large-scale vehicle/equipment storage, wash bays and mezzanine storage. Police and fire department storage and fire training facilities are present as well.

Projecting windows modulate the structure's scale and provide dynamic exterior lighting at night.

The building's volumetric aspect ratio maximizes heating and cooling efficiency while the 50-foot structural module anticipates future additions and modifications.

An anticipated LEED Gold certification, furthering the city's commitment to carbon neutrality

Consolidation of satellite facilities has reduced employee road time, and fuel consumption, and has diverted over 20 tons of CO2 emissions annually.

Taxpayers benefit from the projected $300,000 to $400,000 annual maintenance and operational savings.

 The small vehicle wash bay employs a reclamation system which captures gray water, reducing potable water by 65%. 

 The fire training portion of the project uses a below-grade tank reclamation system that conserves over 600,000 gallons annually.

The 88,000 gross-square-foot roof was designed to support solar panels. Expected to be installed this year, the solar panels will yield the same cost as paying the current rates for the next 20 years. The facility will achieve energy positivity if completely covered in photovoltaics. It will offset 10–15% of the facility's energy use.
An open house event will celebrate the new, 99,000-square-foot facility May 21. The event will feature family-friendly crafts and activities, as well as the ability for kids to climb into city vehicles from snow plows to dump trucks. Other live entertainment, food trucks and indoor roller skating will also be available. 
Other comments made about the IC Public Works facility by the selection committee, can be found here.