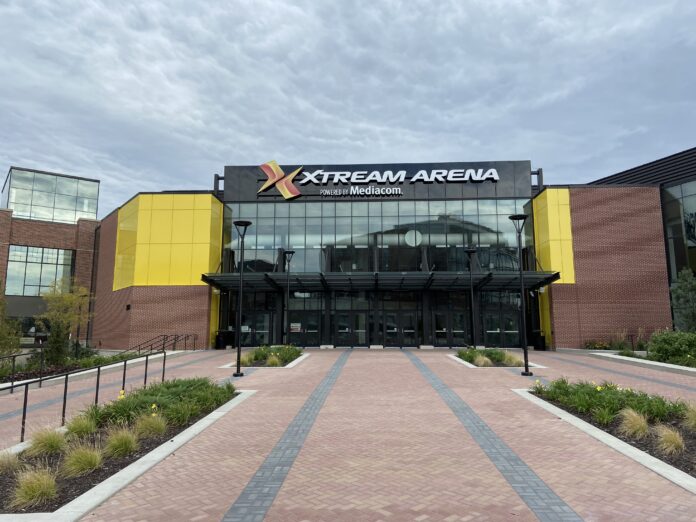 The Iowa Heartlanders franchise was officially introduced to Iowa City at a ribbon cutting ceremony outside Xtream Arena on Tuesday.
Situated under a Heartlander-branded canopy tent, club president Brian McKenna and Coralville mayor John Lundell emphasized the positive economic impact the team would bring the region.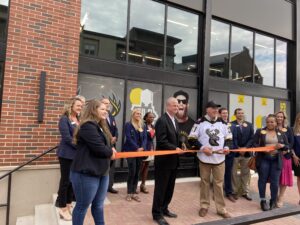 "This is something people will see when they google Iowa City," said Mr. McKenna. He went on to say that a new hockey team in a brand new arena will attract employers and allow the city to host events other than hockey games.
The club has hired around 16 new employees since forming.
After all the speakers finished and the ribbon was cut, attendees could peruse the team merchandise's shop, The Silo.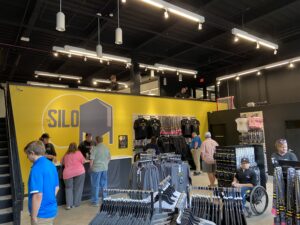 The Heartlanders are the NHL affiliate to the Minnesota Wild and will play their games in the ECHL.
Under the affiliation agreement, the Heartlanders will serve as a resource for the development efforts and personnel needs of both the Iowa and Minnesota Wild. The agreement allows Wild prospects to be assigned to the Heartlanders for developmental purposes throughout the season. Minnesota's primary development affiliate is the Des Moines-based Iowa Wild in the American Hockey League (AHL).
The Heartlanders is the state's first ECHL team and was approved by the league's Board of Governors for expansion in January 2021. The Heartlanders are owned by Deacon Sports and Entertainment and will play at the 5,100-seat Xtream Arena, which was completed in September 2020.
They kick off their inaugural 2021-22 season is at home on Oct. 22 against the Kansas City Mavericks.