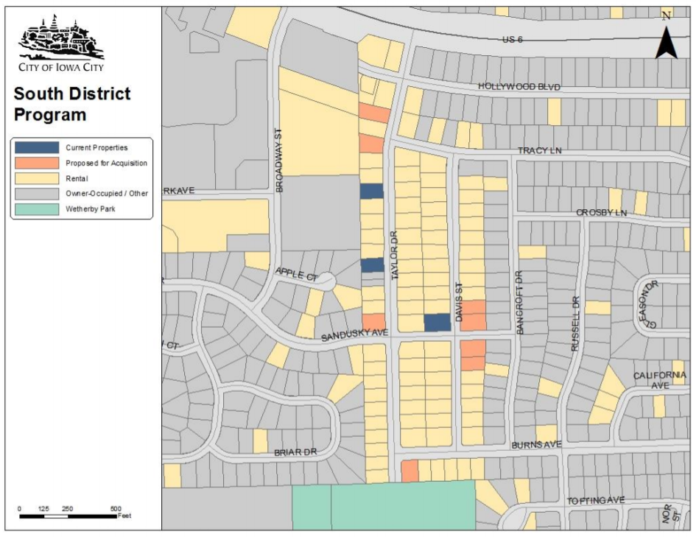 A program aimed at giving lower and moderate income Iowa City residents a chance at homeownership got a major boost Tuesday when the Iowa City Council voted unanimously to approve a purchase agreement for eight duplexes in the city's South District.
The city, which previously purchased and renovated three neighborhood duplexes as part of the South District Home Investment Partnership Program, will purchase the properties located on Taylor and Sandusky drives for $1.52 million – about $95,000 per unit – and invest up to $60,000 apiece in local and federal funding for rehabilitation, down payment assistance and other associated costs. When complete, the city will play landlord to 16 new homeowners.
"We buy a duplex, we renovate it, [and] we then make it into a condominium, and we sell it to an area resident as affordable home ownership," said Neighborhood and Development Services Director Tracy Hightshoe. "Typically, the amount that we can sell it at is far below the existing rents in the neighborhood."
The long-term goal of the acquisition is to provide affordable owner-occupied homes in the South District Neighborhood. Ms. Hightshoe explained that while the units will be worth about $140,000 after renovation, buyers would benefit from a $35,000 loan that is forgivable over a 10-year span and $25,000 in down payment assistance courtesy of the U.S. Housing and Urban Development Department, leaving them with just $83,000 to finance.
That amounts, she said, to "about six hundred bucks per month for mortgage, insurance and taxes, which is probably less than what they rent these for now."
The program will take several years to implement as existing rental tenants living in the properties will be able to remain as long as they wish – and have first dibs on possibly buying the properties. As units are voluntarily vacated over time, staff will proceed with rehabilitation and selling the units as owner-occupied homes with preference given to neighborhood residents. To be eligible to purchase the units, owners must be below 80% of median income.
"It's exciting to see that there are opportunities for residents to become homeowners in this area," said Megan Alter, a member of the Housing and Community Development Commission and the South District Neighborhood Association, who lives around the corner from the properties the city intends to buy. "It is potentially a real success story, because it's really addressing how do we help some root causes, how do we help people turn their homes into equity … and really have that much more of a stake in the neighborhood in ways that rentership doesn't allow."
"I know that this will create some generational wealth for some of these individuals, so this is great," agreed Mayor Bruce Teague before the vote.
The purchase will be funded by in-lieu-of fees paid by the Tailwind Group to the city's affordable housing fund. Tailwind, which is developing a $54.4 million Pedestrian Mall project will pay fees totaling $1.8 million rather than incorporate affordable housing within the project.