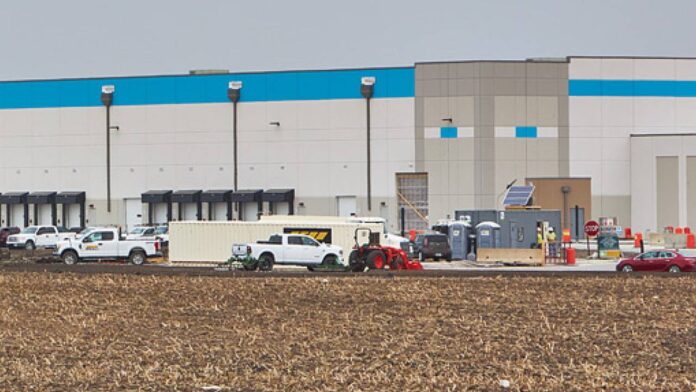 The recently completed Amazon AR Sort Fulfillment Center in Bondurant is on sale for nearly $355 million, the second Iowa Amazon facility to hit the market in the last year.
The Des Moines Business Record reports about $300 million of the sticker price is an assumption of debt.
"Across the country, well-leased industrial properties – particularly if they are leased to high-credit tenants – are more valuable than they ever have been," said John Kevill, president of U.S. Capital Markets for Avison Young, which is marketing the property, in a release. "There is no more valuable logistics distribution facility than one occupied by Amazon."
The state-of-the-art Bondurant facility, with a gross area of more than 2.69 million square feet, opened in December.
The property is one of the largest Amazon-occupied properties to go on the market so far in 2021, according to a news release. The property's seller is Mesirow Realty Sale-Leaseback of Chicago.
In October 2020, less than a year after it acquired the Iowa City warehouse that is now home to an Amazon last-mile delivery center, owners Tamshazon LLC put that property up for sale – at nearly twice the price.
The business entity created by California-based Cardinal Industrial purchased the 2500 Heinz Road property in January for $13.4 million, or what was then about 165% of its 2019 assessed value of $8,116,130. A notation on the sales record at the time indicated the higher price for the 346,553-square-foot warehouse was the result of the "quality of tenant and lease (Amazon)."
Ten months later, the property was back on the market, for $22.9 million – a 71% jump – with sellers touting a long-term lease with "Big Four" company Amazon and $12-$15 million in capital improvements by the Seattle-based e-tailer. An entity doing business as Iowa City Industrial Partners, LLC purchased the facility in March for $20.6 million, according to city records.
Amazon properties are typically bought by large institutional funds seeking "core investments and stable cash flows," Mr. Kevill said. Off-shore investors have also been interested in the properties as well as private equity funds and real estate investment trusts.
Mr. Kevill said that improvements to the Bondurant property, particularly in the area of technology, will create significant tax benefits to its next owner.
"The next owner is going to be able to accelerate the depreciation of those improvements and in the first year of ownership have a significant tax benefit," he said.
Amazon leases more than 95% of the warehouse space it occupies in the United States, according to information included in its annual report.