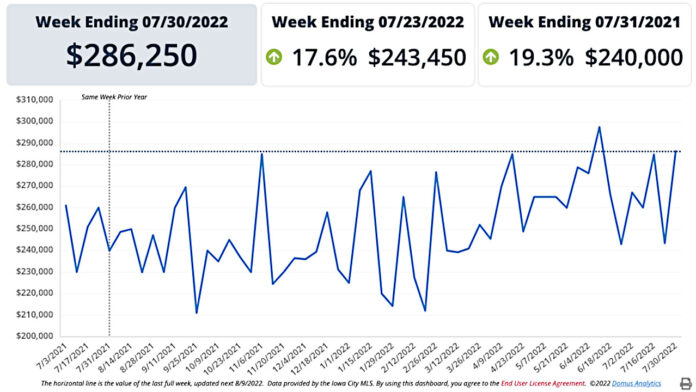 Weekly trends in Iowa City real estate sales for the week ending July 30 were generally inverted from the previous week, including an increase in average sale price and a sharp decline in pending sales, the Iowa City Area Association of Realtors (ICAAR) reported.
ICAAR week reports showed an average home sale price of $286,250, up 17.6% from last week's average of $243,250 and up 19.3% from the $240,000 average from the same week of 2021.
There were just seven pending sales reported for the month, down 671% from last week's total of 54 pending sales.
Average time on the market dropped to 25 days for the week, a drop of 7.4% from the 27 days reported a week ago and down 21.9% from the 32 days in the same week a year ago.
Federal interest rates have risen again, a trend that's expected to continue in the fight against inflation, and in hopes of creating a buyer's market in real estate, ICAAR said.
"Though we had a similar drop off in closed sales in September 2021, many of these weekly stats are quite different from this time last year," ICAAR communications director Evan Lobdell said. "This seems to be a sign of just how unique and ever-shifting this market is, and we will continue to keep a close eye on if the increase in federal rates is effectively helping to even out this seller's market."
The Iowa City Area Association of Realtors is the local professional association for area Realtors, who are also members of the National Association of Realtors. The trade association represents over 460 licensed real estate professionals throughout the greater Iowa City area.