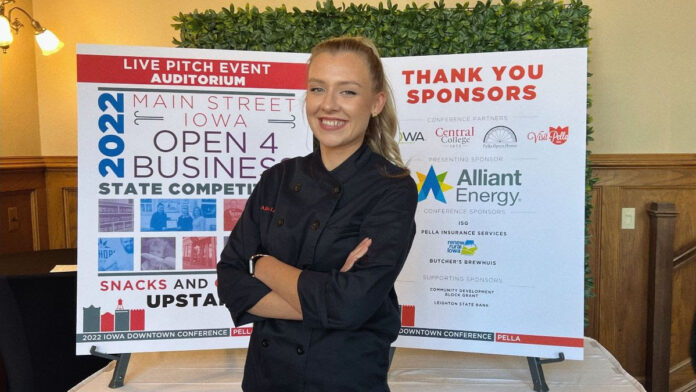 Hardware Hank in Le Mars topped four competitors in the statewide Open 4 Business pitch contest held in Pella on Monday, Aug. 2.
According to a news release, five businesses from Main Street Iowa communities across the state competed in the final round of the Open 4 Business contest, which began in March with 24 applicants. All five businesses received awards.
The business owners submitted applications and videos outlining their plans and had 10 minutes to pitch their ideas to the following judges: Sandy Ehrig of the Governor's Empower Rural Iowa initiative, Rand Fisher of the Iowa Area Development Group, Vada Grantham of DMACC, Karla Organist of the University of Northern Iowa's Institute for Decision-Making, and Lisa Shimkat of the Iowa Small Business Development Center.
"We had a hard time selecting, so everyone's going to go home with some money tonight," said Debi Durham, executive director of the Iowa Economic Development Authority (IEDA) and Iowa Finance Authority, in the release. "The big ideas pitched by these small business owners exemplify the entrepreneurial spirit and strength of small businesses and Main Streets across the state."
Scott Pageler, who owns Hardware Hank in Le Mars, won a $20,000 grant for a mobile showroom to bring his flooring department to customers' homes, using photos and digital displays to help them visualize their projects.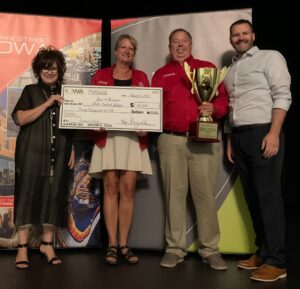 "This is a one-of-a-kind shopping experience, not only in Le Mars, but also in northwest Iowa," Mr. Pageler told the judges at the competition. "I haven't found anything like what I'm trying to create."
The first runner-up, Candle Ready Cakes in Dubuque, won $10,000. The second runner-up, The Beancounter Coffeehouse & Drinkery in Burlington, won $7,500. Two honorable mentions, The Hangry Lady in Cedar Rapids and The Corner restaurant in Greenfield, each won $5,000.
This is the eighth year of the Open 4 Business contest, which is open to businesses in the 53 Main Street Iowa districts across the state.
The grants are administered through IEDA's Iowa Downtown Resource Center and Main Street Iowa programs.
The Corridor's honoree
After receiving her degree as a Dietician from Kirkwood College, Allie Lanham decided her true passion was in crafting beautiful and delicious foods. She went on to attend Kirkwood's Culinary School and graduated at the top of her class before working for two years at Caucho Restaurant as the Chef de Cuisine, and two years at Popoli where she was named one of 40 Women to Watch by the Iowa Restaurant Association. When Popli temporarily shut down during the pandemic, Allie jumped at the opportunity to pursue her own culinary dreams.
She opened The Hangry Lady in 2020 and shortly after also earned a spot inside the Newbo City Market. There, she crafts charcuterie boards, fresh cold-pressed juices, giant pretzel charcuteries, etc. while also catering for various businesses and events throughout Cedar Rapids. With her history as a dietician and professional chef, Allie thinks of her space as a safe place for people with dietary restrictions with her selection of vegan, gluten- and dairy-free products, things that can be hard to find in the area.
While most of The Hangry Lady's business comes from catering events, the grant money would be utilized in greatly expanding those operations through purchasing portable refrigerated coolers for additional storage and the opportunity to attend events like farmers markets. This valuable storage space would also allow the business to provide more grab-and-go options and meet Allie's goal of expanding and the Hangry Lady someday having its own storefront.