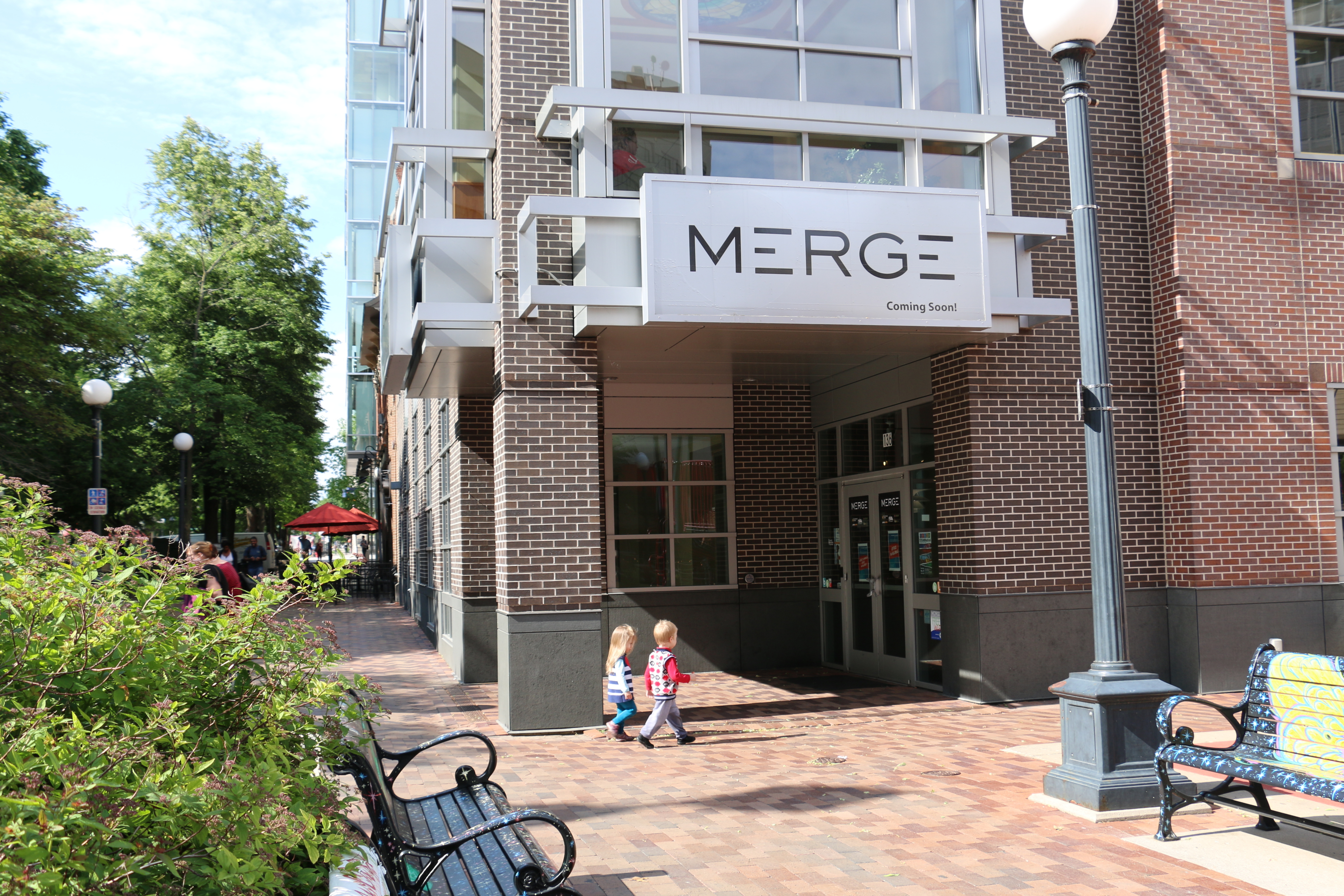 The new MERGE space in downtown Iowa City where the new CVB office will be located. PHOTO CHASE CASTLE
By Chase Castle
chase@corridorbusiness.com
The Iowa City/Coralville Area Convention and Visitors Bureau (CVB) will open a satellite office in Iowa City this summer, which comes as the organization adopts a new brand intended to raise the area's regional profile.
The CVB will open its satellite office on the first floor of 136 S. Dubuque St. on the Iowa City Pedestrian Mall, which presently serves as a co-working and meeting area for MERGE, the new tech workspace shared by the Iowa City Area Development (ICAD) Group and the University of Iowa's Office of Research and Economic Development.
A reception desk at the space's front door will become a welcome area for guests at downtown events, and guide visitors seeking out MERGE's co-working spaces or downstairs professional offices.
A memorandum of understanding with the city of Iowa City was signed earlier this month, with the satellite office scheduled to open sometime in July. The desk is tentatively scheduled to be staffed from 9 a.m.-5 p.m. Tuesday-Friday, and 9 a.m.-3 p.m. on Saturdays.
The CVB satellite office will support the organization's existing office at 900 First Ave. in Coralville, which opened in 2007. Mr. Schamberger said the new office will cost about $35,000-$40,000 annually to operate.
The move stems from strategic planning discussions that began about five years ago, related not only to increasing the group's visibility but becoming more accessible to the general public.
"Our audience is more than just visitors," Mr. Schamberger said. "It's the residents that need to know what's happening this weekend as well."
As the CVB prepares for a permanent Iowa City presence, the group also recently launched a new marketing campaign as part of an "organizational brand refresh."
The campaign is largely the product of Cubic Inc., a firm the CVB hired about two years ago that specializes in place branding and destination marketing. After seeking input from local residents, city and county officials, and University of Iowa representatives, the Tulsa, Oklahoma-based firm recommended a new public-facing brand: Think Iowa City.
The organization will continue to use the Iowa City/Coralville Area CVB name for official and legal purposes.
"Certainly everyone in the community and in the Corridor that we associate with recognizes what we do and recognizes us as the Iowa City/Coralville Area Convention and Visitors Bureau, and that will remain our name," Mr. Schamberger said.
He said the new brand is intended to reflect the area's civic engagement, literary history and creative arts, and could be adapted for different events and locations.
Marketing materials for local events may soon reference "Think North Liberty" or "Think Johnson County," for example. General tourism advertising or campaigns targeting the Chicago or Madison, Wisconsin areas, meanwhile, would be marketed with the "Think Iowa City" name.
"Our whole goal from the beginning was to [find] an identity that resonated with visitors, and not one that got muddied down through local politics," Mr. Schamberger said. "We can't allow individual community pride to get in the way of brand or identities that most resonate with our audience."
The Iowa City/Coralville Area CVB's implementation of the new brand follows last year's name change at the Cedar Rapids Convention and Visitors Bureau. That organization is now known as GO Cedar Rapids.
Mr. Schamberger said similar CVB and chamber of commerce campaigns have been successful in other "town and gown" cities such as Omaha, whose chamber launched a "We Don't Coast" slogan that was quickly adopted by groups ranging from rodeo organizers to Bellevue University.
"They really developed something that can be used across multiple community partners and agencies in a very grassroots style," Mr. Schamberger said. "We haven't drawn a lot of attention to it because we really want most organizations to be able to adopt it on their own."
In addition to marketing "Think Iowa City" and its related offshoots, the CVB also has a new, minimalist logo. The new image forgoes the group's yellow stick figure logo implemented in the 1990s, and instead utilizes the space with the tagline, "A Collection of Curious Communities."
The logo will mainly be used for marketing in non-local markets such as Illinois, Wisconsin and Western Iowa, Mr. Schamberger said.