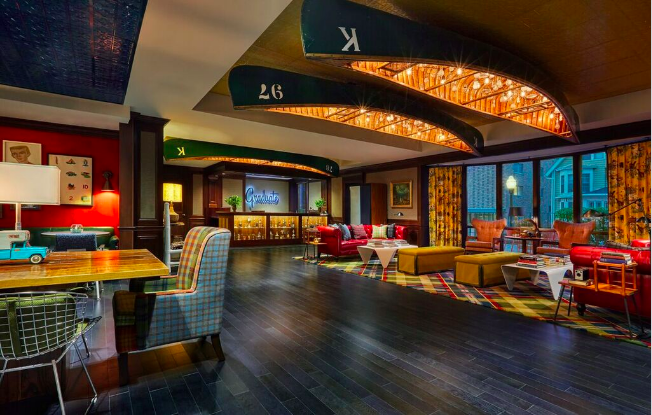 The lobby of Graduate Madison, a hotel under the Graduate Hotels flag that opened in Wisconsin in 2015. The brand's designs strive to reflect the history and character of the university towns in which they're based. CREDIT CHRISTIAN HORAN
By Chase Castle
chase@corridorbusiness.com
Owners of the Sheraton Iowa City and the neighboring hotel Vetro are expected to close on the sale of the hotels next month, with plans to rebrand the Sheraton under the Graduate Hotels flag.
The hotels are owned by RockBridge Capital, a hospitality-focused investment firm headquartered in Ohio, and Davidson Hotel Company, a Memphis-based hotel development company that took over management of the two properties after their joint purchase of the Sheraton in 2008. The following year, Davidson completed a multi-million dollar renovation that updated the nine-story hotel's guest rooms, public spaces and back-of-house areas.
The buyer, AJ Capital Partners of Chicago, plans to convert the Sheraton into a Graduate Hotel, a flag the company launched in 2014 with customized designs that pay tribute to their respective university towns.
The company presently operates seven Graduate Hotels, including locations in Madison, Wisconsin, and Ann Arbor, Michigan; a location in Berkeley, California, opened this month. Additional hotels are planned in Minneapolis; Seattle; Lincoln, Nebraska; Richmond, Virginia; and Bloomington, Indiana. The company aims to have the Graduate flag in more than 20 markets by the end of 2020.
Tim Franzen, president of Graduate Hotels, said university towns are integral to AJ Capital Partners' portfolio.
"Not only are these markets incredibly resilient, particularly in times of economic downturn when college enrollment tends to spike, they are also hotbeds of entrepreneurial and corporate business activity," Mr. Franzen said in an email.
He said Iowa City is especially attractive because of its large teaching hospital, arts scene and literary history.
"Through thoughtfully curated design, Graduate Iowa City will pay homage to these traits and others that make Iowa City so special and unique."
Mr. Franzen said that although the Sheraton Iowa City would be rebranded as a Graduate Hotel under the current arrangement, hotel Vetro will likely remain under that name.
Josh Schamberger is president of the Iowa City/Coralville Area Convention and Visitors Bureau. If the sale closes next month and renovations start later this year, he said, the loss of business should be partially absorbed by the Hilton Garden Inn, which is scheduled to open sometime this year one block west of the Sheraton at the corner of Burlington and Dubuque streets.
"It's in one of the best locations in the entire community, obviously," Mr. Schamberger said of the Sheraton. "But there's a lot of hotel inventory coming on the market, and that product needs to stay competitive. This is going to be a great way to not only keep it competitive, but keep it as one of the market leaders."
When the Sheraton Iowa City was purchased in 2008, it sold for approximately $7.13 million – about $2.6 million less than the prior year's valuation, according to Iowa City Assessor's records.
Steve Smyka, general manager of Sheraton Iowa City and hotel Vetro, said Davidson Company will continue managing the two hotels and no staffing changes are anticipated.
Still to be determined is the overall design of the renovated hotel, as well as how the purchase would affect the Share Wine Lounge & Small Plate Bistro inside the Sheraton.
"There's been big discussions on what to do with food and beverage in terms of outlets and brand and markets," Mr. Smyka said. "But again, none of that's been finalized or shared with us."
Mr. Franzen said a timeline for the renovations is still being established, but they may overlap with city improvements of the Pedestrian Mall where the Sheraton is located, including plans to build a small, permanent stage in front of the hotel. That would require permission from the prospective new owners.
"That's one of the reasons they've shared their preliminary thoughts [with the city]," Iowa City Manager Geoff Fruin said.
Preliminary plans for that area, called the Weather Dance Foundation and Performance Space, also include the installation of overhead lighting and an open-air canopy, which could be used by guests at events such as Iowa City Summer of the Arts concerts.
Other likely improvements in the Ped Mall include new pavement, upgraded underground utilities, additional overhead lighting and wayfinding kiosks.
"Our goal is to finish up with those plans this fall, be able to bid the project in the winter and start next spring," Mr. Fruin said.
Several other hotels are expected to come online as those renovation projects get underway. The RISE at Riverfront Crossings is scheduled to open its dual condominium and hotel towers at the corner of Court and Linn streets in 2018. In Coralville, a new Home2 Suites by Hilton and a Fairfield Inn & Suites are on course to open this summer near Coral Ridge Mall, while construction of a Staybridge Suites hotel at the Iowa River Landing in Coralville is expected to begin in the fall. That will be followed by construction of a Drury Inn & Suites hotel at the IRL starting next spring.