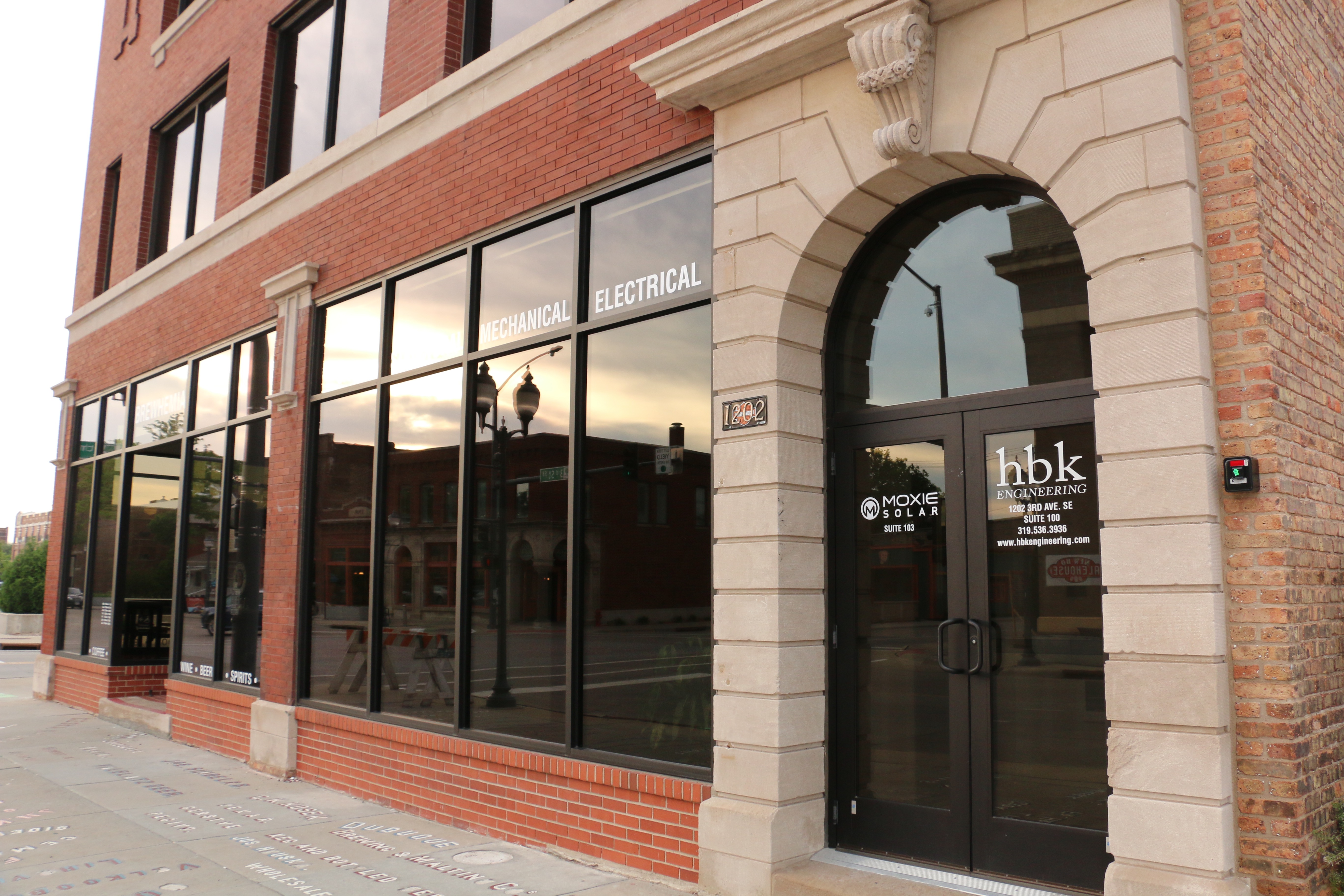 HBK Engineering's new Cedar Rapids office, located in The National building at 1203 Third St. SE. The building is also home to Moxie Solar's new sales office. PHOTO ADAM MOORE
By Dave DeWitte
dave@corridorbusiness.com
A strong reputation in a niche market has been the recipe for growth at HBK Engineering, which recently opened its second Corridor office.
HBK Engineering's name doesn't appear on a lot of high-profile projects, despite the firm's growth to more than 400 employees. That's because it develops designs for underground telecommunications, gas distribution, water distribution and wastewater collection networks. Everybody relies on them, but almost nobody ever sees them.
A new HBK office at 1203 Third St. SE in Cedar Rapids' New Bohemia district opened this spring with five employees. It is the company's 10th location. An existing Corridor office at 509 S. Gilbert St. in Iowa City has grown to 23 employees since it was founded four years ago by Rob Decker and Brian Boelk at an earlier location on Eastbury Drive.
CEO Ronald Kaminski is a University of Iowa graduate who founded the firm in Chicago, where it is still headquartered. He said the Cedar Rapids office will help service the underground infrastructure needs generated by the construction of the city's flood control system. The project, expected to take place over a period of years, will require many underground utilities to be redesigned and relocated.
But there's another reason HBK chose Cedar Rapids, Mr. Kaminski said. The firm views Cedar Rapids as an attractive relocation choice for many of its younger employees in the Chicago area as they reach the stage of life when they want to buy or build a home and raise a family.
"Chicago is a great place, and we have over 200 millennials in the company," Mr. Kaminski said. Home ownership in Cedar Rapids is far less costly than in most of the Chicago metro, he said, and the city's public schools are well regarded. He believes those and other considerations could help HBK retain millennial employees as they reach the age when they want to settle down.
Mr. Kaminski founded HBK in 1999 at the height of the telecommunications boom, designing underground network infrastructure for companies like Cedar Rapids-based McLeodUSA (now Windstream). Heavy demand from that market drove the scale of the business from 1999 to 2001, but the "telecom crash" in 2001 caused the value of telecom companies to plummet. No less than 13 companies in the markets HBK served sought bankruptcy protection.
Fortunately, Mr. Kaminski said Commonwealth Edison, the big investor-owned utility, tapped HBK for some important projects, and has become a core client. The firm now works with several dozen utilities that have underground infrastructure in and around Chicago.
HBK's underground utility expertise is especially prized in urban environs such as Chicago, where the underground networks can be dense and complicated. But HBK's engineering practice isn't limited to below-ground work.
The company's Iowa team provides services that include municipal engineering and planning, private development, park and recreational planning and design, construction management and private development. Among its many projects, HBK helped the city of Muscatine integrate sustainable stormwater practices in its Downtown Revitalization Project, the city of Kalona stabilize a highly eroding stretch of Salveson Creek, and Iowa City design a master plan for Willow Creek Park and Kiwanis Park.
Mr. Decker and Mr. Boelk formerly worked together in the Iowa City Public Works Department, and were leaving to form their own engineering firm. Mr. Kaminski said HBK liked the Iowa City market, and put in a bid for them to join the company and open the office for HBK. The staff now includes a mixture of civil and mechanical engineers, certified planners, surveyors, landscape architects, designers, construction managers and project managers.
Since opening the Iowa City office, Mr. Kaminski said HBK staffers who have come to visit the office from other locations have left with great impressions of the region and what it has to offer.
"We're really excited about the access to the tech talent [in the Corridor]," Mr. Kaminski said.
HBK's new Cedar Rapids office bears a strong resemblance to its space in Chicago's West Loop area, Mr. Kaminski said. The historic building now known as The National was originally constructed 109 years ago for a Czech fraternal society known as the ZCBJ, and has been redeveloped by a local group including Dennis Henderson and Joe Ahmann, with high open ceilings, natural light and exposed brick.
Mr. Kaminski expects the new office to grow in much the same way as the Iowa City office has. It will not be limited to supporting local infrastructure projects, Mr. Kaminski said, but will support HBK clients nationwide.
Among the things that Mr. Kaminski has seen distinguish HBK in the engineering market are its close customer relationships and culture of volunteering. He said HBK typically becomes a long-term partner to its customers, working seamlessly with their internal staffs to meet project goals.
The firm also donates employee time to support projects in the nonprofit world, a part of the company's culture that evolved from how things were done at its big client, ComEd. He said the volunteer work provides amazing networking opportunities and the chance to build strategic alliances as it meets community needs.
"I'm just so proud of these individuals and all they've accomplished in their volunteer efforts," Mr. Kaminski said. "We listened to employees and paid attention to what they wanted and expected us to do. These are things you don't think about when you start a company."