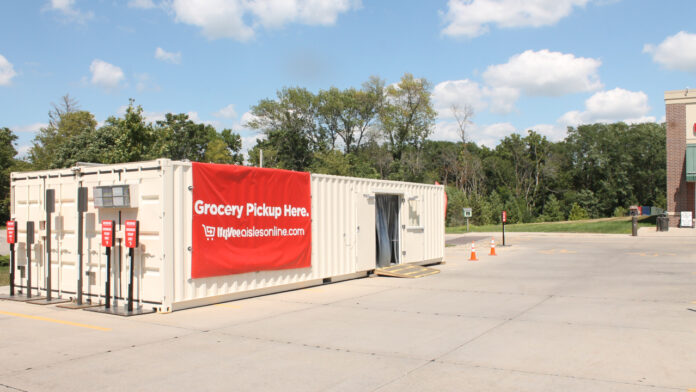 On a unanimous vote and with no comment from the public, the Iowa City city council approved Tuesday night the second and third readings of a rezoning request for added facilities to serve "Aisles Online" customers at the Hy-Vee food store on North Dodge Street.
As part of the project, Hy-Vee plans to add three drive-through grocery pickup lanes, an 1,15-square-foot permanent "Aisles Online" kiosk with a canopy, and additional landscaping at the north and east edges of the existing store property, 1103 and 1125 North Dodge St.
According to a letter in the rezoning application from LT Leon Associates, a Des Moines-based civil engineering firm, the additional facilities are planned because "Hy-Vee anticipates a steady increase in online orders in the coming years."
"Hy-Vee has been working on how to better serve their customers with online grocery ordering, delivery, and pickup over the past several years," the letter says. "They were working with order volumes that could be easily accommodated with several dedicated parking stalls prior to the COVID-19 disruption. In a matter of a week, they went from processing 50 to 60 online orders each day to processing hundreds of orders per hour each day.
"Hy-Vee does not anticipate that the drive through lanes will increase the amount of traffic to the store but will replace existing in-store shopping trips … The drive through layout allows a queue of cars rather than a pull in configuration which will improve traffic flow and customer satisfaction."
City staff had previously recommended the rezoning, subject to conditions including a buffer line along the west edge of the project, appropriate quality and design standards for the canopy structure, and retention of existing evergreen materials and mature trees.