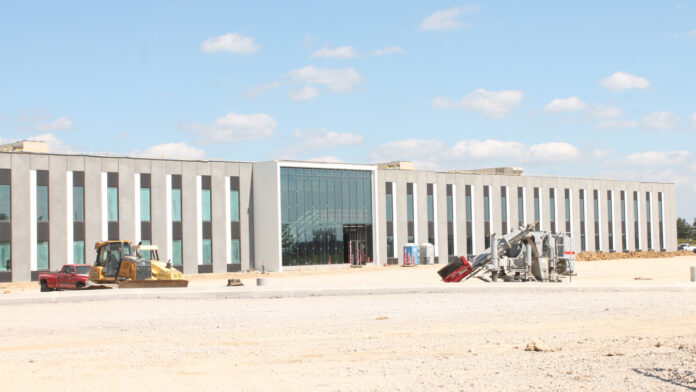 Construction of BAE Systems' new $139 million, 278,000-square-foot facility continues at the corner of Sixth Street and 76th Avenue SW in Cedar Rapids, and the project remains on schedule for completion by the fall of 2022, company officials say.
"We're making a long-term commitment to our military GPS business in Cedar Rapids, and the construction of our new state-of-the-art facility is going well," Jason Casciotti, BAE's navigation and sensor systems integration lead, said in response to an emailed request from the Corridor Business Journal. "We're still on track to complete the project in 2022, and the new space will provide an excellent work environment for our employees."
The company broke ground on the state-of-the-art aerospace and defense facility at 7825 Sixth St. SW in November. The UK-headquartered company, which acquired Collins Aerospace's former military GPS business in January 2020 for just over $1.9 billion, says the factory and research and development center will bring about 700 former Collins Aerospace workers now at locations in Coralville and Cedar Rapids under the same roof.
The campus, set on a 32-acre site, will include a large factory, several hundred offices, workstations, and flexible workspaces, as well as classified and unclassified labs.
But Mr. Casciotti highlighted that the building is designed for growth, with the ability to add 50,000 square feet of additional space in the future. The project will include 900 parking spots, which will also accommodate new growth.