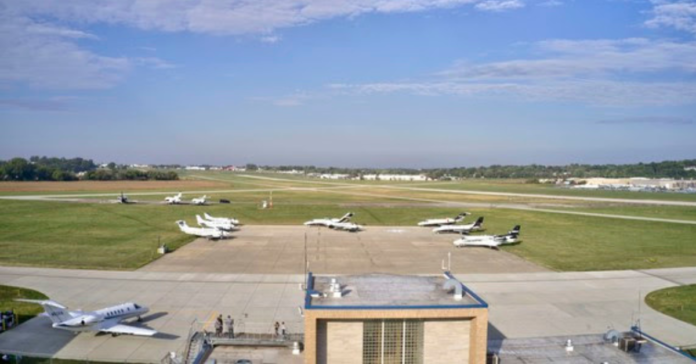 The Iowa City Municipal Airport (IOW) brings in $24 million annually in total economic activity, supports 74 on-airport jobs and has 18,700 annual visitors, according to a 2022 Iowa Aviation Economic Report.
Statewide, Iowa airports generate $6.4 billion in economic impact each year, support 41,000 jobs and generate $124 million in tax revenue, a press release said.
"The aviation and aerospace industries provide important services and generate significant economic impact in Iowa," Iowa DOT Aviation Director Tim McClung said in the report.
Annual economic activity is calculated by adding annual payroll to annual spending. Total statewide economic impact is determined by taking annual economic activity and inputting the data into a statistical model called IMPLAN to estimate multiplier impacts. Economic impact in the IMPLAN model includes both direct and indirect impacts.
IOW is located less than two miles from Iowa City's downtown area. According to a one-year sample of FAA flight records of filed flight plans in 2019, IOW accommodated over 3,700 flights to and from over 550 of unique markets across 44 states and multiple countries, the technical report said.
Jet Air, the airport's fixed-base operator, provides flight services for medical patients and organ transplants at the Iowa City airport. The University of Iowa Hospitals and Clinics (UIHC) uses a research and flight testing facility, called the Operator Performance Laboratory, for technological innovations.
UIHC also operates an Iowa City-based air ambulance facility used for emergency medical response missions and patient transport activity. In addition to Waterloo and Dubuque sites, air ambulance operations in the state totals $449 million in economic impact, according to the report's executive summary. UIHC AirCare staffs a team consisting of critical care nurses, flight paramedics, pediatric respiratory therapists, pilots and mechanics.
More than 5 million acres of farmland are sprayed by aircraft annually. It is estimated that
agricultural aviation contributes $373 million to the state's economy each year as a result of increased crop productivity.
More than 93,000 tons of cargo is shipped by air annually through Des Moines and Cedar Rapids.
The Eastern Iowa Airport employs 586 direct on-airport jobs, has a payroll of more than $129 million and total economic activity of $321 million.