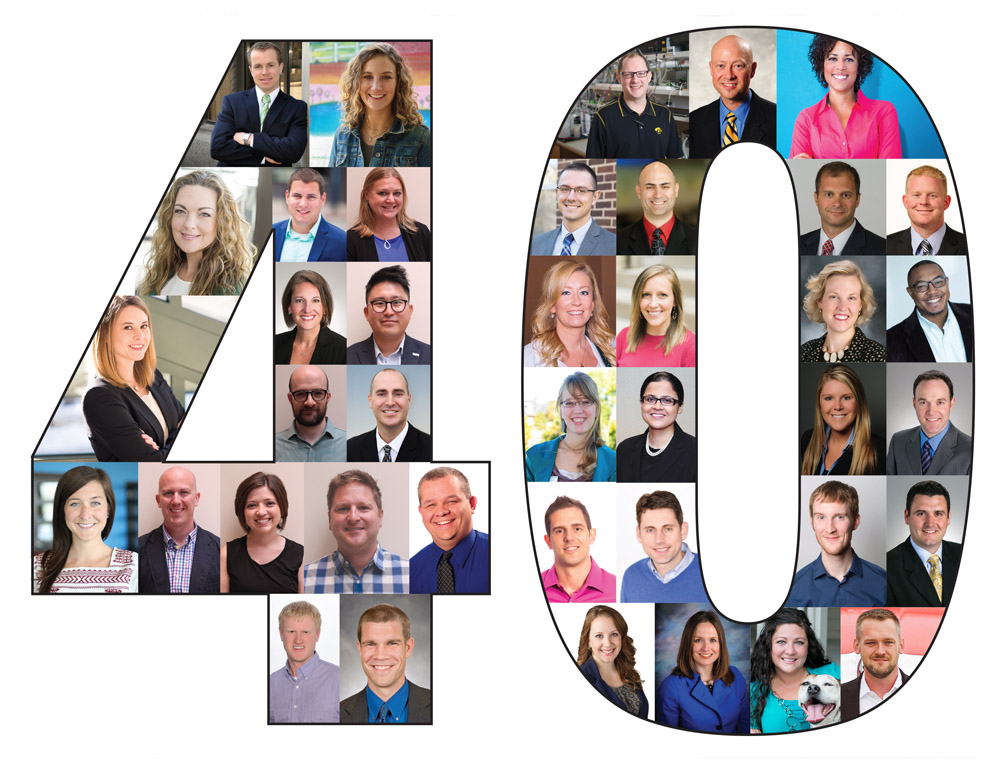 By Adam Moore
adam@corridorbusiness.com
The Corridor Business Journal is proud to introduce another outstanding class of Forty Under 40 honorees, all of whom have been selected for both their professional achievements, and dedicated service to our communities.
This marks the 12th year the CBJ has presented the award to 40 of the Corridor's successful young professionals, selected by a committee of previous years' honorees. More than 100 people were nominated for the award, placing it among the largest consideration groups in the history of the program. The honorees were celebrated at an awards dinner, held Oct. 20 at the Cedar Rapids Marriott.
Like previous classes, the Class of 2016 is undoubtedly hard-working – they reported working an average of about 50 hours a week, just below last year's average of 55 – and includes nominees from a majority of the Corridor's seven counties, but it also has some unique differences. While past classes have shared a professional mix including entrepreneurs, doctors and attorneys, this year's group is business-focused, with only one doctor and one attorney. Almost half of the members of this year's class have a president, vice president or director-level title, while six have founded or started their own businesses.
That perspective shined through in our annual honoree survey, which asked, among other things, about the biggest issue facing the Corridor today. Forty percent of class members cited the retention and recruitment of talented professionals as the leading issue facing the region; 15 percent cited economic development needs, while another 15 percent cited the need for permanent flood protection. Three honorees cited pressing infrastructure needs, including congestion on Interstate 380.
"We have great educational institutions, but not much luck retaining the talent that results," wrote Wesley Beary, hacker laureate with Heroku.
That's not to say that this year's honorees aren't thinking about the world outside business. This year's class demonstrated a clear passion for education and kids, with 30 percent of honorees naming an educational nonprofit or cause when asked what they would support if they had $1 million to give. Twenty-five percent said that they would support nonprofits or causes related to youth, while 20 percent said they would give to medical research for diseases like cancer, Alzheimer's and juvenile diabetes.
"We want to make the older generation proud of our work and show them we can continue the success they have created while inspiring the generation following us," wrote Eric Thuente, a partner at Bergan KDV.
It's a sentiment that makes us hopeful for the future amidst all of the negativity and cynicism that we've encountered this year. Given the dedication and passion of this class, we're confident that the Corridor has amazing leadership on the horizon.
This year's honorees:
Robert Archibald
Josh Baynes
Wesley Beary
Nicholas Benson
Chad Brandmeyer
Kaitlin Byers
Devin Carney
Brittney Clarke
Bill Daly
Dustin Embree
Kyle Faille
Stephanie Gray
Jason Grimm
Justin Grobe
Joe Horaney
Aaron Horn
Chris Hummer
Marcel Kielkucki
Christina Kimerle
Nate Klein
John Lee
Laci Lower
Jorja Ludeking
Amy Lynch
Peter Matthes
Emily McMahon
Michael Morman
Emily Muhlbach
Tracey Myers
Akwi Nji
Jennifer Pruden
Ryan Scheckel
Hunter Skogman
Matt Swift
Veronica Tessler
Eric Thuente
Fatima Toor
Lesley Vossenkemper
Jessica Wittman
Andre' Wright