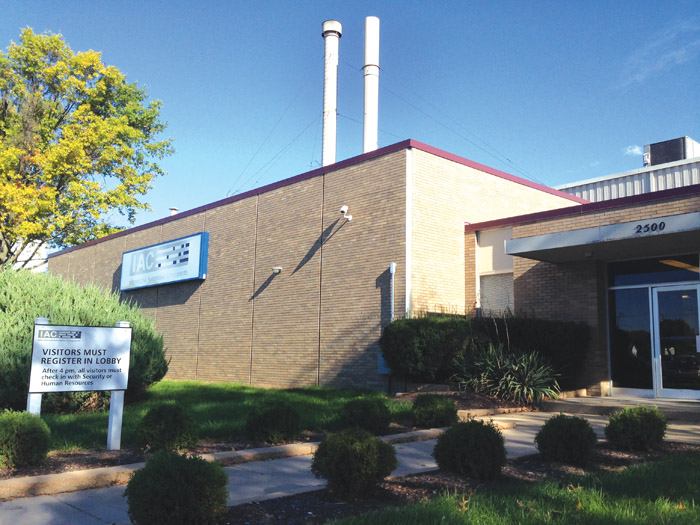 The exterior of the International Automotive Components plant, located at 2500 U.S. Highway 6 in Iowa City.  PHOTO/CHASE CASTLE
By Chase Castle
chase@corridorbusiness.com
More than 475 people at International Automotive Components in Iowa City will lose their jobs before the end of the year.
The number of hourly workers at the Iowa City plant will be reduced from 600 to just 160, and the number of salaried workers will go from 76 employees down to 39. A spokesperson for the auto parts manufacturer said employees were told of the planned reduction in force on Oct. 20.
International Automotive Components (IAC), which is based in Luxembourg and has U.S. headquarters in Michigan, employs about 32,000 people. The Iowa City plant produces parts for several major automakers. That includes Fiat Chrysler, which is next year phasing out domestic production of the Dodge Dart, which is supported by the Iowa City plant.
The plant also makes parts for the Jeep Compass and Jeep Patriot, which until recently, were produced in Belvidere, Illinois. However, an IAC spokesperson said production for both models has been transferred outside IAC's shipping radius.
"Both of those programs were very, very big programs for our Iowa City plant, along with other plants in the Midwest that supplied for those vehicles," said David Ladd, executive director of marketing and communications for IAC. "That really just took a big toll on Iowa City in particular, and we have to adjust the workforce in response."
Mr. Ladd said the company will be negotiating with the plant union representatives prior to the end of the calendar year, when the full reduction in force is scheduled to be implemented. Negotiations will address employee severance as well as outplacement programs, he said.
The plant will continue to make parts for GM truck lines, the Chevy Camaro, the Ford Transit and Hyundai.
The reduction in force comes a year after IAC hired a new president and CEO, Robert "Steve" Miller, who replaced former CEO James Kamsickas after he accepted a position with Dana Holding Corp.
Mr. Miller worked for a year as the chairman and CEO of Delphi Automotive starting in 2005, when the automotive parts manufacturer filed for Chapter 11 bankruptcy. He also served as the executive chairman for Delphi from January 2007 until its emergence from Chapter 11 in 2009.
When Mr. Miller's hiring was announced last year, the company issued a statement acknowledging his turnaround experience, but explicitly stated he was not being hired in order to correct financial performance at IAC.
"Steve's corporate roles often have drawn upon his turnaround experience, but that is not the case here," said shareholder Wilbur Ross, Jr. of WL Ross & Co. "Our interest is in his automotive experience and relationships."