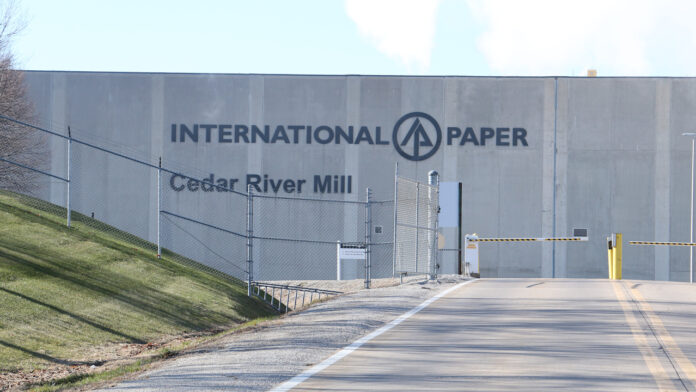 International Paper reported net sales for the fourth quarter of 2021 Thursday that topped analysts' estimates, but adjusted earnings per share (EPS) fell short of expectations.
The paper products manufacturer, with operations in southwest Cedar Rapids, totaled $5.08 billion in net sales for the fourth quarter, up 14.5% from $4.44 billion in the fourth quarter of 2020 and just above the Zack Consensus Estimate of $5 billion. Adjusted EPS for the quarter were 78 cents, up 47% from the adjusted EPS of 53 cents from 2020's fourth quarter but 10% below the Zacks estimate of 87 cents.
For the full fiscal year, the company reported total revenue of $19.4 billion, up from the $17.6 billion in the previous year but short of analysts' estimates of $21.7 billion. Adjusted EPS for the year totaled $3.20, nearly 50% above the $2.14 from last year, but again short of the $4.04 adjusted EPS predicted by analysts.
In a statement, International Paper chairman and CEO Mark Sutton said the company anticipates continued solid demand from customers, but that near-term pressure on volume remains due to the COVID-19 Omicron variant and supply chain disruptions.
"In 2021, International Paper grew revenue and earnings in a highly challenging operating and cost environment," Mr. Sutton said. "Throughout 2021, we serviced strong customer demand while managing through significant operational and supply chain constraints. We focused our portfolio around corrugated packaging and initiated meaningful actions to accelerate profitable growth and materially lower our cost structure. Additionally, we returned $1.6 billion to shareowners through strong cash generation and reduced debt by $2.5 billion."