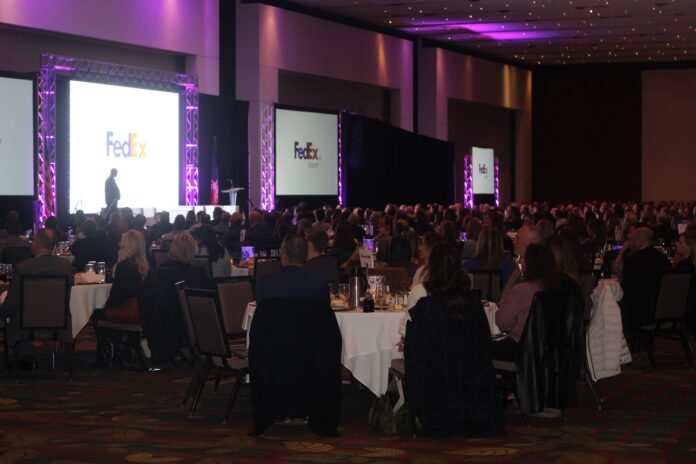 At the Cedar Rapids Metro Economic Alliance's 2021 annual meeting held today at the DoubleTree by Hilton Hotel Cedar Rapids Convention Complex, Cedar Rapids City Manager Jeff Pomeranz touted the growth near The Eastern Iowa Airport on the city's southwest side. 
"As you drive out in that area, it's impossible to miss the number of projects that are happening," he said. "For instance, BAE Systems, an international corporation, is building a significant facility that will eventually employ 1,000-plus employees in our area. You'll see West Side Transportation, Lil' Drug Store Products, Worley Warehouse, Blue Star Refrigeration, Bio Springer, and the recently announced Alro Steel. And there's a number of other exciting projects in the works, some under construction, and some to be announced."
One of the most high-profile projects in that area is the $108.6 million FedEx Ground Package System warehouse and distribution center being built. Marc Williams, senior vice president for Operations at FedEx Ground, spoke of the project in a keynote address.
"There's a buzz around town about the FedEx Ground that's underway in this community. It is the construction of a new 479,000-square-foot state-of-the-art distribution center located on Commerce Park Drive. It's just about a mile away from an existing facility that we've been providing ground pickup and delivery services in Cedar Rapids since 2008," Mr. Williams said. "We're opening this new building to keep up with the growing demand for service, thanks in part to the business growth in this area. The new operation is designed to augment the service that we already provide from an existing facility on Capitol Drive. This facility will incorporate advanced material handling sortation technology and will be able to process up to 15,000 packages an hour when it opens this fall. Then, it will process 20,000 packages an hour just a year later. More importantly, from the standpoint of everyone in this room, the new facility will employ hundreds of local citizens, support dozens of locally owned businesses and serve thousands of community, commercial and residential customers throughout the region."
For more updates from the Economic Alliance's annual meeting, check back at www.corridorbusiness.com and in the Feb. 14 issue of the Corridor Business Journal.