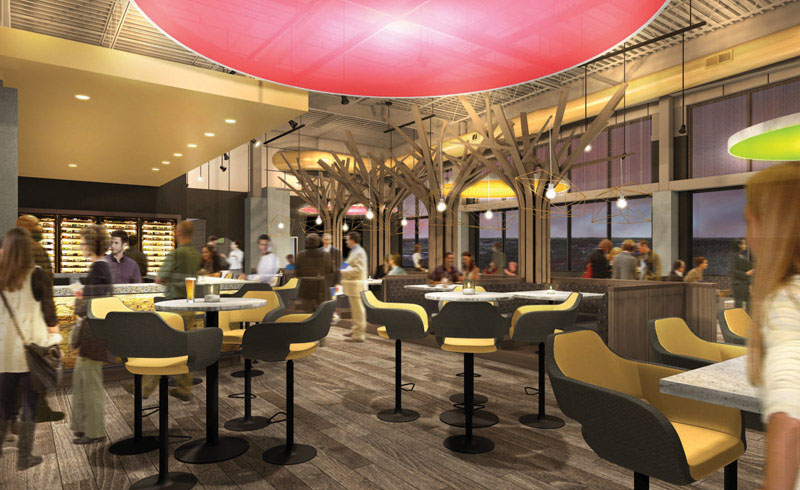 An interior rendering of the coming Vue restaurant, planned for the rooftop of the 12-story Hilton Garden Inn being built in downtown Iowa City. IMAGE KINSETH HOSPITALITY
By Christine Hawes
news@corridorbusiness.com
Iowa City's new Vue rooftop restaurant and bar, seated atop the 12-story Hilton Garden Inn, is expected to become an in­stant draw when it opens this October.
The 6,000-square-foot hotspot will fea­ture 20-foot ceilings and draping lights in its interior area, a full-service kitchen and bar focused on "cutting-edge gastronom­ic selections," and a canopy that can be opened or closed, depending on the sea­son. There's also a VIP room that can seat 50, and an outdoor, 1,000-square-foot area that will offer an unmatched view of the city's skyline.
"We put a lot of thought into this," said Ben Kinseth, vice president of operations for North Liberty-based Kinseth Hospital­ity, which is building the hotel. "We think it will be a very dynamic place for dining and entertainment. It will be a great place to go out at night and will be a big draw all across the state."
The Vue is the literal cherry atop the $34 million Hilton Garden Inn, which marks Iowa City's first nationally branded hotel built since 1984.
The mid-to-upper tier hotel is located across from the new University of Iowa School of Music building, and will be geared mostly toward business travelers.
Most of the rooms feature a king bed, and will offer a "niche"-style design with a refrigerator and coffee station. The hotel will offer a pool with a hot tub and a fit­ness center. Another highlight will be the 3,200-square foot event space on its sec­ond floor, featuring a large banquet win­dow to provide yet another great view of the city.
While smaller than many of Iowa City's existing banquet areas, the new Hilton Garden Inn event space will fill a key need in the area, said Rebecca Dinstad, sales di­rector. It will be an ideal spot for smaller events, and for private celebrations like weddings that attract up to 220 people.
Because of its proximity to the universi­ty, the new hotel is also expected to draw a variety of business from the school. Ms. Dinstad said that could include both pro­fessionals and visiting students.
Puzzling pieces
Creating the Hilton Garden Inn was a pro­cess of "puzzle-piecing," Mr. Kinseth said.
"We had a tight, small site to build on that was only a quarter of an acre. It was a challenge to fit 143 rooms and a confer­ence center."
The high-rise design helped make the project work, Mr. Kinseth said. That deci­sion also caused the project's cost to grow by about $1 million because of the in­creased use of metal and cement it requires.
That's one reason the developer is appreciative of the city's contribution through tax-increment financing. The arrangement provided almost $9 mil­lion in rebated property taxes and hotel/motel taxes.
Kinseth previously estimated that con­sumer spending associated with the hotel would account for $6 million annually in the city, and said the property will create around 150 jobs.
More options coming
The Hilton Garden Inn is just the first of several new lodging options coming to the center of Iowa City over the next few years.
Owners of the Sheraton Iowa City and the neighboring hotel Vetro closed on their sale of the hotels to AJ Capital Partners in June, clearing the way for the Sheraton to be rebranded under the Graduate Hotels flag. Graduate is a bou­tique concept featuring customized de­signs that pay tribute to their respective university towns.
The company presently operates nine Graduate Hotels, including locations in Madison, Wisconsin; Ann Arbor, Michi­gan; and Berkeley, California. Additional hotels are planned in Minneapolis, Seattle and Bloomington, Indiana. The company aims to have the Graduate flag in more than 20 markets by the end of 2020.
Its Iowa City location is expected to open some time next year, with a design paying homage to the city's theater and literary heritage, Graduate Hotels Presi­dent Tim Franzen previously told the CBJ.
Nearby, the RISE at Riverfront Cross­ings is scheduled to open its duel condo­minium and hotel towers at the corner of Court and Linn streets in 2018, while the Chauncey project at College and Gilbert streets is expected to open with another hotel, among other amenities, in early 2019.