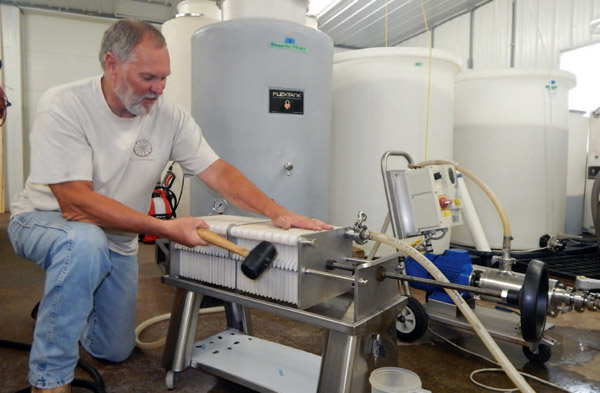 Owner Mike Vincent uses a rubber mallet to align frames on a filter used in the final steps of winemaking. PHOTO EMERY STYRON
By Emery Styron
news@corridorbusiness.com
KEOTA – History is hard to miss at Wood­en Wheel Vineyards, a 120-acre, five-gen­eration farm in western Washington County, where the 1860 barn serves as an event center, wines honor family pioneers and an 1872 land grant certificate signed by President U.S. Grant adorns the tasting room wall.
"We like to name our wines for an­cestors," said owner Mike Vincent as he dropped two dark bottles on the thick oak-timbered bar. Like the tasting room shelves, the bar's top is made from wood salvaged from the farm's vintage corncrib.
The wine labels recycle family history, too. One tells the story of Isabella Clark Wright, a 17-year-old orphan whose fa­ther's service in the War of 1812 quali­fied her for a grant of 80 nearby acres. Another honors Mr. Vincent's grandfa­ther's brother, Earl Vincent, a state leg­islator, congressman and federal jurist who died in 1953.
The opportunity to share his heritage is one of many things Mr. Vincent likes about this "very social" business. Host­ing volunteers who pull nets off grape­vines is another.
Wooden Wheel's seven acres of grapes are tasty pickings for birds, so Mr. Vincent protects his 4,000 plants by unwinding netting over them from 2,500-foot rolls. When it's time to pick grapes, Harvest Club members turn out to remove the nets, then enjoy dinner and wine at an an­nual "Take It All Off Party."
"We've made a lot of good friends," said Mr. Vincent, who bought the farm from his father in 1970, and returned with his family in 2010 after working on the East Coast for a decade and founding an Ankeny-based insurance agency in 1993. The farm on Iowa 92, long a family get­away, became the place to realize a dream.
Keys to success
The most successful wineries are those with event centers, a fact that led Wooden Wheel to start there.
"This is my last job and I wanted to do it from a positive financial position," Mr. Vincent said. "We built the event cen­ter and sold other people's wine the first years, then after three years started replac­ing other people's wines with our own."
The original, rough-sawn support tim­bers help retain the barn's rustic ambi­ance, as does the rafter-hung hay hook brought down from the loft. Stall walls were removed to open up the space, while a muriatic-acid stained concrete floor pro­vides an attractive, danceable surface.
Rent is based on headcount, making the center affordable for groups from 20-300.
In the combination winery and ware­house adjoining the barn, Mr. Vincent acknowledged it's been a "huge curve" to learn winemaking. Iowa State Univer­sity's Midwest Grape and Wine Industry Institute has been a big help, he said, but there's always more to learn about one of mankind's oldest professions.
"I don't think I've gotten to the top of it," he said.
Wooden Wheel uses a combination of stainless steel and poly tanks to ferment its wines. The winery is "just finishing up making wine from last year's juice," Mr. Vincent told a reporter visiting at mid-summer. "We'd like to have it all bot­tled and out of the way so we can bring this year's crop in and start working on it."
The winery/warehouse space is crowd­ed with equipment and cases of finished product, and Mr. Vincent is hoping to add a 40- by 60-foot warehouse this fall.
Next door is the tasting room, where customers can sample the product amid memorabilia from the farm's history, or outside on the patio.
In addition to a dozen ancestor-themed wines, ranging from sweet to dry, Wooden Wheel offers the edgier line of motorcy­cle-themed Steel Horse Wines, including Fire Wine, a spicy, 20 percent alcohol des­sert wine; Brother's Run, a dry red Cab­ernet Sauvignon; and Kickstart, a dry, blended white.
Wooden Wheel's Private G.W. red won the gold, and its Martin & Tessie rose won the bronze at the 2014 Mid-America Wine Competition.
A growing business
Outside, neat vine-covered trellises curve over the hills.
"We plant here what we can't buy any­where else," Mr. Vincent said.
Wooden Wheel grows the red grapes, Marquette and Petite Pearl, and the whites Brianna and LaCrescent. The disease-resis­tant, nearly pea-sized Petite Pearl comes from a private breeder and will be used to make sweet wines, which customers in­creasingly prefer.
Rows are widely spaced so they can be tended as much as possible with a utility vehicle, which can run between the rows with a sprayer. Most of the acreage is rented to neighboring corn and bean farmers, but can be converted to a vineyard as needed.
The building that functioned as a washhouse, summer kitchen, woodshed and all-purpose building during the farming years is now the residence of a full-time employee.
Mr. Vincent, and his wife, Connie, live above the winery and work at the business seven days a week. Her specialty is the vineyard, while he focuses on the wine­making and serves as vice president of the Iowa Wine Growers Association.
Business has increased each year, Mr. Vincent said. A big boost came last sum­mer when 5,000 RAGBRAI riders stopped in for refreshment, buying 100 cases of wine and 60 cases of beer.
"Many of the visitors have been back," he added proudly.