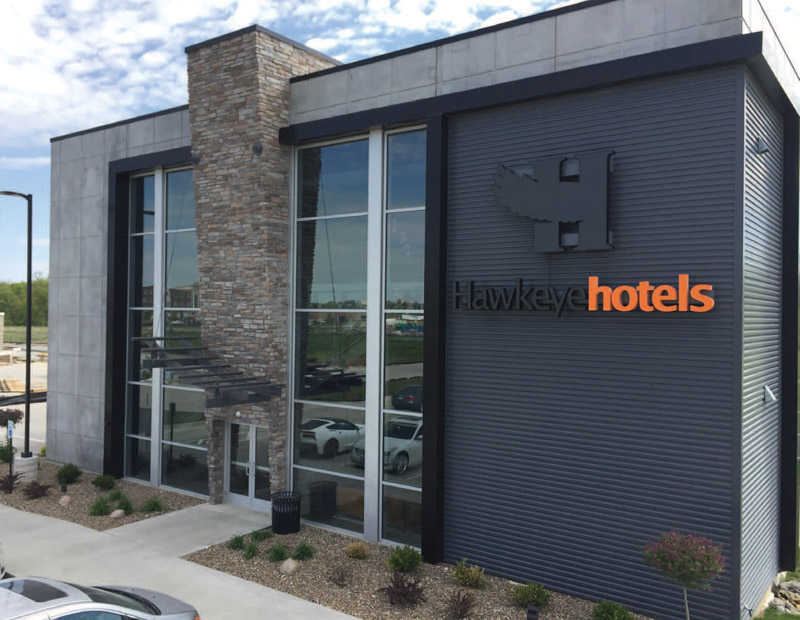 The new Hawkeye Hotels headquarters at 2706 James St. in Coralville, shown shortly after its June opening. The company is adding thousands of rooms while also going upscale. PHOTO HAWKEYE HOTELS
By Dave DeWitte
dave@corridorbusiness.com
Coralville-based Hawkeye Hotels just won't stop – or slow down.
The family business has about 5,000 rooms in 14 states in its current stable of properties, and plans to add about 2,000 more in the next few years. At the same time, the company has been moving up the price/quality spectrum, from limited service hotels to convention center and boutique hotels in larger markets.
Hawkeye Hotels moved its headquarters in June from Burlington to Coralville's Coral Galleria area, next to its new Residence Inn, and a 95-room Fairfield Inn it is developing.
After opening a new Residence Inn and buying a Holiday Inn Express last year in Cedar Rapids, the company this year broke ground on a Holiday Inn Express in Marshalltown, and has plans to build another one in Ottumwa. Then it's on to start a new downtown hotel in Cedar Falls next spring – and that's just in Iowa.
The winning formula is based on landing the right locations, brands and buildings to meet the needs of each particular market. But Chief Development Officer Raj Patel says the company has also succeeded because it's willing to take a calculated gamble.
"We've built many properties where we're betting on the future of the market and we're betting on ourselves," he said.
It can be in smaller towns, which have sometimes recruited Hawkeye Hotels to build their first new hotel in decades. But it can also be in a place like Des Moines, where Hawkeye's investment in two hotels and a parking structure on an entire city block set off a wave of new downtown hotel activity. The company is investing about $40 million to redevelop the iconic Hotel Fort Des Moines into a 290-room boutique hotel.
In Peoria, Illinois, Hawkeye is working to reopen a closed 326-room convention center hotel it bought at auction.
"We're currently in 14 states and we're developing a lot in Minneapolis and Milwaukee, Ohio, and around Denver, Colorado, and in Texas and Louisiana," Mr. Patel said.
It's a true family business, with five family members working side by side. In addition to Raj, family employees include father and CEO Bob Patel; brother and President Ravi Patel; sister and Vice President Sajni Patel; and mother and Director of Payroll and Accounting Angie Patel.
Bob Patel came to the United States from Canada after buying a closed hotel with 18 rooms in the small Arkansas town of Mena. He went on to buy a 40-room hotel in Hannibal, Missouri, and within five years was building his first new hotel, a Comfort Inn in Burlington.
The Patel siblings grew up in the Comfort Inn, and Raj worked his first regular job as a desk clerk beginning at age 14. He says it's that kind of inside-out understanding of the hotel industry that gives the siblings their confidence.
Their parents instilled a strong work ethic and customer service orientation, Raj recalled, and exemplified those qualities through their own hard work. When they first moved to the United States, he said his mom worked at a McDonald's and his father ran a paper route to supplement their hotel income.
"We live, breathe and love hotels," he said. "It's what we talk about around the dining room table."
The three siblings all attended the University of Iowa, and pride in the company's Iowa roots is evident in more than just the company name.
"Our company values are very much the values of all Iowans," Ravi said. "Genuine Midwestern work ethic, integrity and family lay the foundation of Hawkeye Hotels' corporate culture."
Deals & dining
With its prolific track record of success, Hawkeye Hotels doesn't have to look far for deals these days. The company is now sought after as a buyer for existing hotels because of its track record of closing on deals, and as a development partner.
"Another competitive advantage for growth is that there is no hierarchy of approvals that we have to go through that slow down the process," Ravi Patel said. "Our 'investment committee' takes five minutes, while others can take months to garner all for the necessary approvals. All of this paired with having great relationships with lenders, brokers and franchises allow us to have all of the necessary resources to grow at an exponential pace."
For Raj Patel, that typically means looking at a handful of deals every day. For every 20 deals analyzed, he said Hawkeye typically lands one. And while the company will give quicker attention to deals within a two-hour radius of its headquarters, he said Hawkeye will go anywhere in the United States if the opportunity is right.
Adapting to the trends in the industry is also a critical part of the company's long-term success, according to Raj. He obsessively studies hotels in every market where he travels, looking at everything from parking lot traffic to the dining menus.
New hotels are being built with less emphasis on the size of the hotel suite, Raj said, and more interest in public spaces like a larger lobby with pods where guests can plug in and get work done near hotel amenities.
Hospitality trends have also stimulated Hawkeye's interest in redeveloping downtown hotels, as young travelers opt to leave the car at home and "Uber" from the airport directly to extended stays in downtown areas with walkable amenities.
Among the many projects Hawkeye Hotels is eyeing are possible downtown hotels in Iowa City and Davenport, although the Iowa City property is not currently available for redevelopment.
Just this year, the Patel siblings partnered with the company's food and beverage manager, Sam Hall, to buy the Clinton Street Social Club, a popular Iowa City night spot inspired by a Prohibition-era speakeasy. They will also soon be opening a wood-fired oven pizza concept in Coralville's Iowa River Landing called Marquee Pizzeria and Bar.
According to Raj, the experience running restaurants and bars is part of the value of the investment. They will be opening more restaurants and night spots inside Hawkeye Hotels' full-service hotels, such as a speakeasy-style pub in the Hotel Fort Des Moines, and they expect to learn from the experience.
"But we're also absolute foodies," Raj said. "It's a real fun experience."