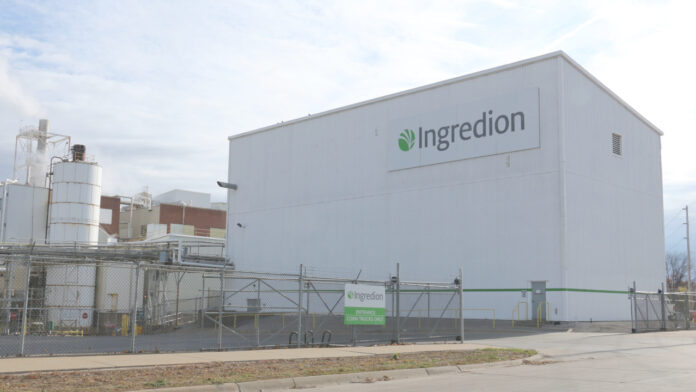 Ingredion Inc., the food ingredient manufacturer with operations in Cedar Rapids, reported Thursday a sharp drop in adjusted earnings per share (EPS) for the fourth quarter, but full-year adjusted EPS still showed an overall increase and the company still expects dramatic operating income growth for 2022.
Adjusted EPS for the fourth quarter was $1.09, down 46% from the $1.75 adjusted EPS reported in the same period last year and more than 15% below analysts' estimates of $1.29 adjusted EPS. The fourth quarter marked the first time earnings fell short of estimates.
However, other results were more positive. Adjusted full-year adjusted EPS for 2021 was $6.67, up from $6.23 in 2020, despite a $340 million impairment related to the contributions of the company's Argentina operations to its joint venture with Arcor.
Net sales for the year totaled $6.894 billion, up 15% from 2020's $5.987 billion.
Looking ahead, Ingredion expects full-year adjusted EPS in the range of $6.85 to $7.45 per share and operating income growth between 7% and 9%.
"Our team executed well in 2021 in the face of persistent macroeconomic and global supply chain challenges," said Jim Zallie, Ingredion's president and chief executive officer. "Partnering with our customers to co-create and meet their changing demand requirements, while implementing strategic pricing actions, and delivering cost savings through our Cost Smart program were major achievements that underpinned our success in 2021.
"In the fourth quarter, we delivered 10% net sales growth led by strong double-digit specialties growth," he added. "We continued to experience strong customer demand which heightened pressure on a constrained global supply chain. In the quarter, we encountered incremental supply chain costs as we made the decision to invest in service delivery to meet customer commitments. Looking to 2022, we expect strong net sales and operating profit growth. During contracting, our teams worked with customers to plan for their demand and implemented pricing to reflect input cost inflation."