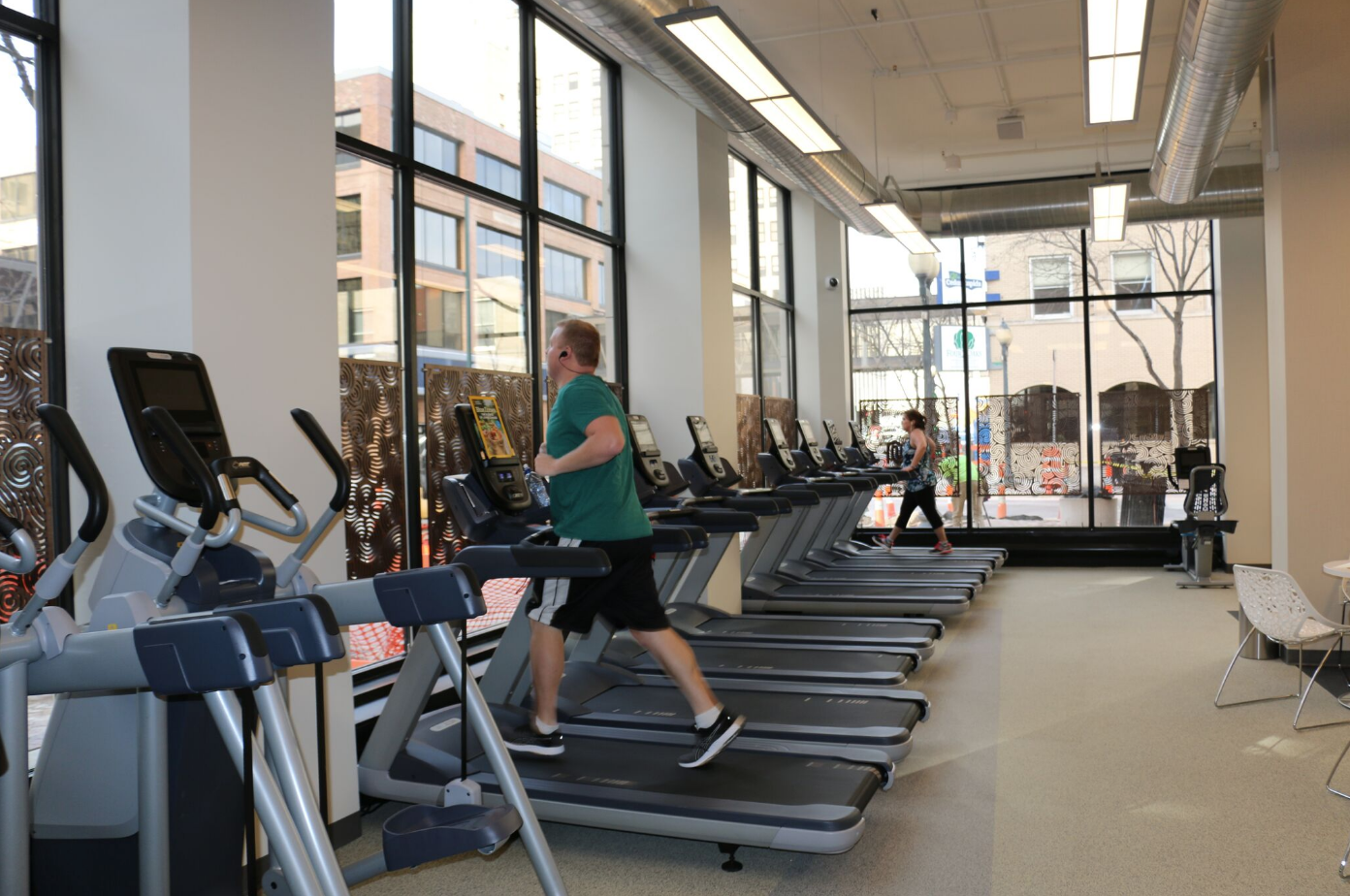 A row of treadmills and other cardio fitness machines opens up following the noon-hour rush at U[Fit], UFG's new wellness center in downtown Cedar Rapids.
By Dave DeWitte
dave@corridorbusiness.com
A new 6,000-square-foot wellness center at United Fire Group opened on Nov. 27, looking a lot like a upscale health club with 24/7 card access, 32 workout stations and a group exercise room filled with spinning bikes.
The growing Cedar Rapids-based insurance company carved out ground floor space in the former Little King deli at 201 Second St. SE and a former UFG marketing office in the neighboring Security Building to bring the space to fruition.
Anticipation had been building among employees as the project progressed through seven months of construction, with the work sometimes visible through the tall windows of the old Little King space.
"When's it going to open?" was the question often asked of Randy Patton, UFG's assistant vice president of finance and investor relations. Usage of the center was strong on the first day it opened, he said, and is expected to grow as classes are added at key times of employee availability.
The fitness center is the culmination of UFG's goal to offer a fully featured wellness program – a project that began in 2016 when Mr. Patton began working on plans with UFG Chief Investment Officer Barry Ernst. The initiative began with the creation of a corporate wellness committee representing every department at the company, and progressed this year with the hiring of Lindsay Olson as UFG's fitness and wellness coordinator.
The first element of the wellness program rolled out on Sept. 16. Interested employees were given Virgin Pulse activity trackers, small devices that clip onto an employee's belt or clothes and allow them to monitor their daily steps and activity.
UFG's in-house name for both the wellnes program and its fitness center is [U] Fit. It is intended to connote not only fitness, but the idea of a program that welcomes everyone, Mr. Patton said.
The former deli space was chosen for the wellness center because it offered both convenience and an inviting space. It's attached to Cedar Rapids' skywalk system so that employees from any UFG building can have indoor access. Floor-to-ceiling windows flood the rooms with natural light and provide panoramic views of downtown.
Many corporate wellness programs are started to improve overall employee health and reduce health care expenses, but Mr. Patton said that wasn't the primary motivation for UFG. The company is not aggregating employee fitness data to see how it moves the dial on health insurance expenses.
"The key is, it's an employee benefit we added for everyone at UFG in Cedar Rapids," said Mr. Patton, who declined to disclose the amount UFG has invested in the facility. "It's also a retention tool – we strive to be one of the top workplaces in the state of Iowa."
There's plenty of research to suggest that UFG is on the right track by developing a wellness program as part of its recruitment/retention strategy. A study by Towers Watson and the National Business Group on Health found that organizations with highly effective wellness programs have annual voluntary attrition, or employee departures, of only 9 percent, compared to 15 percent at companies with less-effective programs.
A variety of studies have also found strong correlations between employee wellness programs and increased productivity, lower health care costs and higher employee morale.
Tech-forward fitness
The UFG wellness facility is packed with technology to help track workouts and deliver fitness programming, Ms. Olson said. The exercise room's video screen is programmed with the Wellbeats Virtual Exercise System, which provides access to a wide assortment of group fitness classes. If an employee wants to drop in at 5 a.m. for a spinning class, they can easily cue it up on the big screen.
Cardio equipment in the fitness center is equipped with the Preva networked fitness system, which keeps employees motivated by setting and tracking weekly goals for calorie burn, distance or workout duration. The system logs weekly workout summaries and emails them to members automatically.
Ms. Olson has access to the Preva business suite, which allows her to communicate with members and advertise classes.
"I can send them messages halfway through their workout, to say 'great job – let's keep it going,'" she said.
For employees like Dawn Hays, a workers' compensation claims supervisor, the new facility means it's only a few minutes walk to a free gym, with workouts that fit into her schedule.
"I think it's great," said Ms. Hays, indicating that she plans to be a regular.
Near-term plans for the wellness center include an assortment of classes for employees: yoga, high intensity training, Zumba and group circuit training. Condensed group exercise classes will be offered for employees who want to fit in a class over the lunch hour. Employee interest and participation will be monitored.
"We are making sure we can always evolve and adjust to what employees want," Ms. Olson said.
One strategy that UFG employed to encourage participation in the Virgin Pulse tracking program was offering health premium discounts to employees who set and meet their activity goals and submit a phsyical exam. Participation among the company's 550 Cedar Rapids employees is high, at 80 percent, Ms. Olson noted.
"That drives them to come in here, because their movements and steps drive incentives they can earn on Virgin Pulse," she said.
The [U] Fit program isn't limited to UFG's 550 Cedar Rapids employees, but is available to other employees around the country who want to participate through activities such as the Virgin Pulse system.