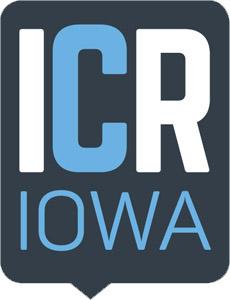 An economic development venture launched three years ago to market the Iowa City-Cedar Rapids area and attract talent to the region is reorganizing and dismissing its president and CEO as part of a shakeup leaders attribute to "challenging financial headwinds."
The ICR Iowa board announced late Friday it would refocus on external marketing of the region and eliminate its top executive position, citing narrowed resources. In a statement, the board said President and CEO Jennifer Daly's last day on the job would be Nov. 6.
Ms. Daly was hired in 2017 to help lead the region's business attraction, workforce development and regional marketing efforts, and spearheaded the launch of the ICR brand to represent the Corridor region to external audiences.
ICR Iowa, a joint venture between the Iowa City Area Development Group (ICAD) and the Cedar Rapids Metro Economic Alliance, will now focus on executing a strategic marketing plan for business and talent attraction that will include "key performance indicators." The board said that effort will include managing the ICR brand, supporting social media channels, finding innovative ways to share the ICR region's story with external markets and "creating a cohesive story about the region's assets and unique characteristics."
"We've come a long way from a conceptual idea to a strong regional organization since 2016, and Jennifer was a big part of that," said ICR Board Chair Lydia Brown in a release. "This path forward ensures a continued commitment to regionalism, and it's the right thing to do right now."
Ms. Brown did not return a request for comment from the CBJ, and it remains unclear who, with no paid executive on the ICR Iowa staff, will carry out the board's strategic plan.
Friday's announcement follows April's "temporary reallocation" of top staffers and financial resources that left only Ms. Daly at the helm. That shake-up, which was attributed to the COVID-19 crisis, saw then-Director of Talent Attraction Tim Carty return to ICAD to support outreach and service to existing businesses, and Brian Crowe, ICR Iowa's vice president of business investment, return to the Economic Alliance to assist with existing business support and lead regional business attraction. Mr. Carty has since left the organization.
ICAD and Economic Alliance board chairs Todd Means and Chris Skogman underlined that a regional marketing approach would not be going away, saying, "there's a strong mutual commitment to our regional partnership and the narrowed focus on regional marketing makes sense for both of our organizations as we head into an uncertain 2021 with new economic headwinds."
The new focus received a stamp of approval from the city managers of Iowa City and Cedar Rapids, both of whom served on a task force evaluating the future of the ICR Iowa initiative.
"Regional cooperation thrives among our communities," said Jeff Pomeranz, Cedar Rapids' city manager. "The renewed focus of ICR Iowa to market our region is well supported and only adds to the ability to attract businesses and workforce."
"It is not news that this year was difficult in a variety of ways," agreed Geoff Fruin, Iowa City's city manager. "But there is agreement that the most important element for the future of our regional growth is to make external audiences aware of our unique assets."
Both boards stated they would continue working together on regional business attraction, talent attraction, workforce initiatives and three "broadly supported regional coalitions," including ICR Future, Inclusive ICR and ICR Talent.