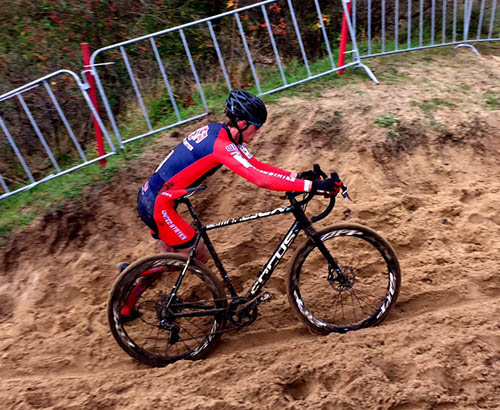 By Chase Castle
chase@corridorbusiness.com
Following this past weekend's annual Jingle Cross race, the wheels are in motion for Iowa City to host a cycling World Cup, an internationally recognized race that could potentially draw thousands of visitors.
First established in 2004, the Jingle Cross is a colorful contribution to the world's competitive cyclo-cross landscape, with holiday-themed decorations adorning a roughly 2-mile track filled with obstacles such as stairs and sand pits, which riders often have to dismount and carry their bikes across. Attendance figures for last weekend's race were not available at the time of publication, but last year's race drew approximately 2,600 attendees.
Among the race's alumni is Helen Wyman, a professional British cyclist who won the women's 2015 British National Cyclo-cross Championship in January. Having completed the Jingle Cross in 2012, Ms. Wyman recently wrote a letter of support on behalf of Iowa City to host an expanded version of the event that could serve as one of two North American Cyclo-cross World Cup championships next year.
Jingle Cross founder John Meehan, now a practicing physician in Seattle, said he still remembers Ms. Wyman standing up after winning the women's 2012 race, and praising it as one of the best in the world.
"I just about fell over," Dr. Meehan recalled. "Because at that moment, I was fully committed to having a World Cup [in Iowa City]. I knew what I wanted to happen."
Following a residency at the Los Angeles Children's Hospital in 2002, Dr. Meehan moved to Iowa City for a position at the UI Children's Hospital while he was in his 30s. It was in Iowa City that the University of Iowa graduate was introduced to cyclo-cross, the local community of which was eager to help him get started.
Within two years, Dr. Meehan established the first Jingle Cross race, which is still held at the Johnson County Fairgrounds, with all profits benefitting the UI Children's Hospital, according to the race's website.
The race took hold in the years that followed, and in 2007, the Jingle Cross was sanctioned by the Union Cycliste Internationale (UCI), cycling's world governing body.
If the UCI selects Iowa City for a World Cup race next year – a decision likely to be finalized in January – Jingle Cross would be expanded from three days to four, with day three of the event serving as the World Cup race exclusive to the sport's most competitive racers. The race would also be bumped up to September in order to align with UCI's major events calendar.
Jingle Cross already is one of the largest cyclo-cross events in North America, said Josh Schamberger, president of the Iowa City/Coralville Area CVB, though the race would likely become the crown jewel of a robust cycling community in the Corridor. Other major cycling events in Eastern Iowa include the granGABLE held northwest of Iowa City, the Snake Alley Criterium and Burlington Road Races, and RAGBRAI, which is organized annually by the Des Moines Register.
Mr. Schamberger and Dr. Meehan met with UCI representatives in Las Vegas in September, when that city's Cross Vegas race was expanded to become the first-ever North American cyclo-cross World Cup event. Organizers estimated that the race drew about 12,000 spectators.
Like the Olympic games and Cycling World Championships, the World Cup races are among the most prestigious in competitive cycling, and contribute to participants' world rankings. UCI representatives have expressed interest in hosting two cyclo-cross World Cup events annually in North America.
"They definitely want permanent North American locations," Mr. Schamberger said of the UCI, noting that Las Vegas already has a multi-year hosting agreement in place.
Late last month, in an effort to demonstrate the city's commitment to the race, Mr. Schamberger, Dr. Meehan, his wife Tammy Meehan and Iowa City Manager Tom Markus traveled to Koksijde, Belgium, to hand-deliver the city's application to host a World Cup event, and to attend a cyclo-cross race.
Mr. Schamberger said the event drew tens of thousands of visitors, in addition to an estimated 6-8 million television viewers. He said that turnout is testament to the popularity of cycle sports in Europe, which could be leveraged to stoke a strong niche within the European travel market.
"Iowa City [could] be shown live across Europe for three hours straight to about six million viewers. That'd be a real, true benefit to the community," he said. "There'd be people in Europe who see Iowa City as a fantastic cycling community and state, the same way other Europeans see our literary heritage."
Mr. Schamberger said Providence, Rhode Island, as well as Montreal and Winnipeg in Canada are also among the bidding cities. Despite that competition from larger markets, Mr. Schamberger said UCI representatives so far have raised few questions about the city's bid, which he attributed to Jingle Cross's established reputation.
"It's now a matter of going through the bidding process and seeing what else comes to fruition," he said.