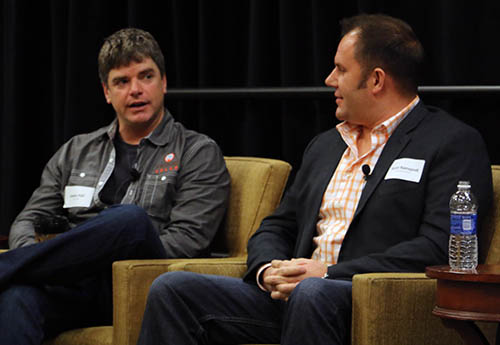 Jason Hall, founder of Moxie Solar, and Scott Ramspott, founder of Spotix, discuss lessons learned during An Entrepreneurial Forum. Marc Meyer, founder of Inteconnex, and Roger Cassill, founder of Cassill Motors, also participated on the Dec. 9 panel.
Corridor business owners swap stories at An Entrepreneurial Forum
By Dave DeWitte
dave@corridorbusiness.com
CEDAR RAPIDS—Successful Corridor entrepreneurs opened up on what it takes to make it in business during the CBJ's annual startup event, An Entrepreneurial Forum, stressing the importance of passion and having the right people.
"It's important to know that you're all in, every day," said Marc Meyer, founder and CEO of Inteconnex, a growing Cedar Rapids provider of premises security technologies. "There's not a lot of work-life balance. It's basically integrated into your life… it's always there and you're always working."
Mr. Meyer spoke on the Dec. 9 panel with Roger Cassill of Cassill Motors, Cedar Rapids; Jason Hall of Moxie Solar, North Liberty; and Scott Ramspott of Spotix, North Liberty. Moderator Larry Helling started Cedar Rapids Bank & Trust 15 years ago, leading its growth from a staff of 11 to 125.
Each of the businesses serve distinct markets, but much of the founders' advice pertained to hiring the right people and keeping them motivated.
"I like my management team to feel like they're operating a business of their own without having the investment, necessarily," said Mr. Cassill, whose company services, sells and rents vehicles. Another key to keeping good employees satisfied is to avoid micromanaging, he added.
"You give them a box with some parameters to work within, and you give them the ability to work within that box however they want, as long as the end goal is what we're looking for," he said.
Mr. Ramspott started Spotix five years ago, and earned the title of the CBJ's Fastest Growing Company in May. He said his company's growth is largely due to the smart people he's hired, and how well they work together as a team. He relies heavily on the Caliper Hiring Assessment to make sure new hires "fit that seat on the bus."
A question about what trends the entrepreneurs are watching called attention to rapid changes in markets and technology.
Mr. Meyer said he's keeping a close eye on emerging video analytics technologies, which interpret video images and can alert clients to issues more quickly. He is also keeping a close eye on the emergence of inexpensive video surveillance products from China, which may not be as sophisticated as other products in the market, but can satisfy the needs of some customers.
Mr. Hall said he's watching what will happen to the solar energy tax credits that have stimulated the market for his company's power installations, and working to diversify the company's offerings so that the company still has a market if the credits are allowed to sunset.
At Spotix, "we're watching how the younger generation buys," Mr. Ramspott said, noting the increased use of social media in purchasing decisions, and the decline in reliance on printed telephone books as examples.
As might be expected, a question from Mr. Helling about the biggest mistakes the entrepreneurs have made brought a pregnant pause. The answers, when they came, were enlightening.
"Selling too many cars was a mistake early on," said Mr. Cassill. "Sometimes in a small business, you can get too much business going and lose track of your core, how you necessarily got there."
Mr. Cassill said he now tells his managers that there are three pieces of business – product, price and service.
"If you're the very best at all of those, you'll go broke," Mr. Cassill said. "It's almost like Panera [Bread Co.] – you need to pick two. If you're the best in service and in product, it's almost impossible to be the cheapest in town."
Mr. Meyer answered in a similar vein, saying his company was not initially focused enough, and offered too many different kinds of IT products before honing in on security.
Raising the money to start and grow may be the most daunting challenge for many entering business. The role of money brought some interesting responses in a final question about what advice the entrepreneurs would offer other startups.
"It's all about the money, and it has nothing to do with the money," said Mr. Hall, a former banker. He said businesses should have a variety of different avenues for raising access to capital so that they can grow even if their first, second or third plans don't succeed.
"On the flip-side, it has nothing to do with the money," Mr. Hall added. He said those who are doing what they love can find success if they hire others with the knowledge to handle money issues.
Mr. Ramspott, whose first business venture was opening a bar at the age of 20, had a slightly different take. He said capital is needed to grow a business, and also urged would-be entrepreneurs to seriously analyze the skillsets they will need to be in business for themselves.
"I don't remember who said this, but if you're a great baker, it doesn't mean you should open a bakery," Mr. Ramspott said. "Don't open a bakery until you're ready to run a business — the ordering, the receivables – make sure you understand that."
The breakfast event at the Cedar Rapids Marriott was sponsored by Cedar Rapids Bank & Trust, the Eastern Iowa Airport, the University of Iowa John Pappajohn Entrepreneurial Center and Kirkwood Community College.