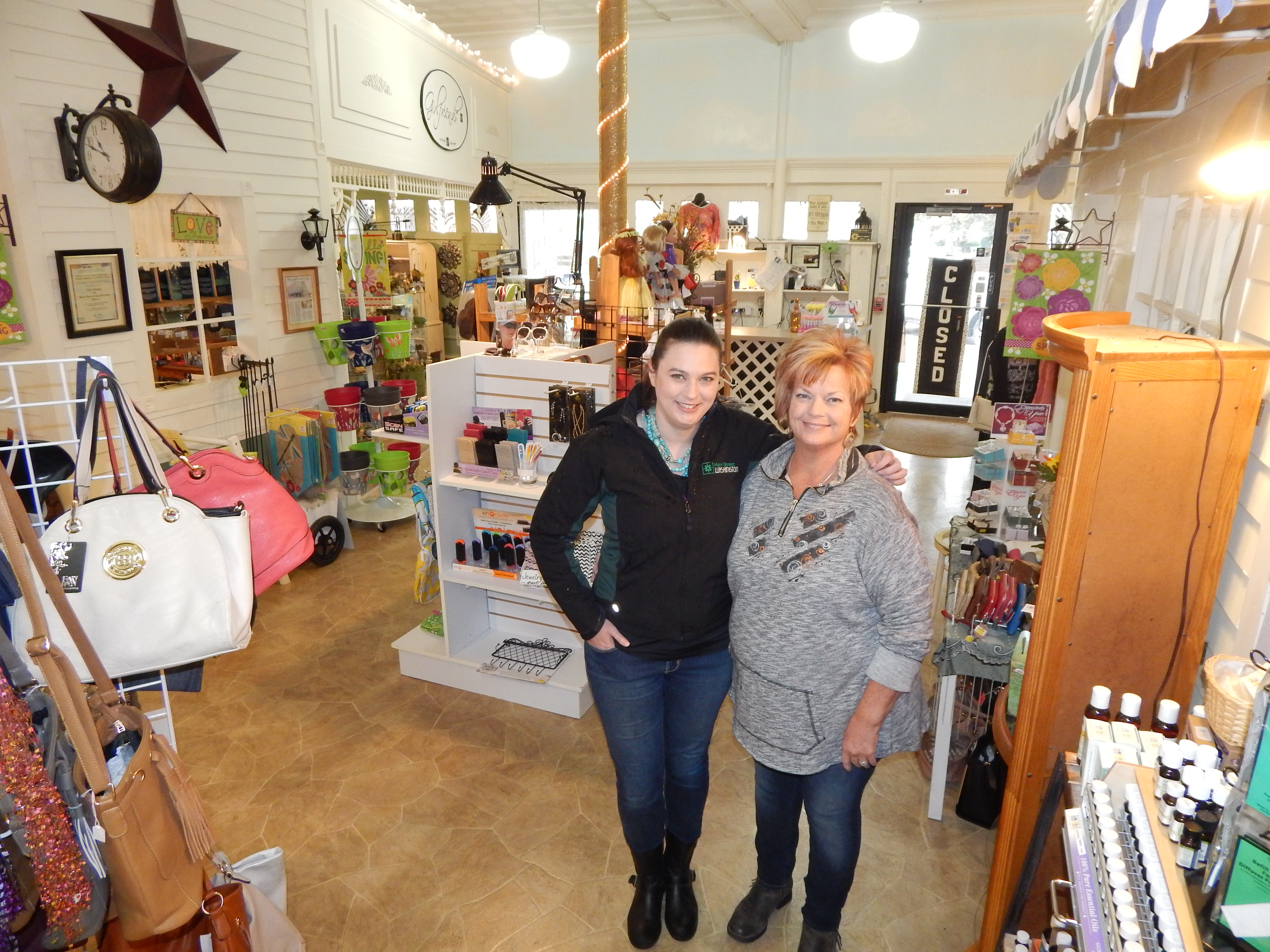 The Village, a group of separate stores filling the front half of the Bryson Block, the old JC Penney's building in downtown Washington, is one example of Washington County's successful revitalization. Main Street Washington Director Sarah Grunewaldt, left, and Jenn Bontrager, one of the business owners, stand amidst merchandise ranging from women's clothing to kitchen gadgets. PHOTO EMERY STYRON
By Emery Styron
news@corridorbusiness.com
"We have some kind of secret sauce here. I'm not sure what it is," quips Sarah Grunewaldt, director of Main Street Washington, when asked why her county's retail sales have climbed 56 percent since 1998.
Washington County has also gained 1,600 jobs and grown its population 7.8 percent since then, outrunning most rural Iowa counties in all three departments.
It helps to be located 20 miles from the thriving metro of Iowa City, but there's more to it than location. Washington even outshines counties like Jones and Winterset, with advantages similar to Cedar Rapids and Des Moines, said Iowa State University economist Dave Swenson.
If there is a secret sauce, Ms. Grunewaldt at least knows some of the makings. Since her organization began focusing on improving downtown Washington in 2008, retail sales in the county seat have grown from $78 million to almost $100 million a year.
Retail rebound
"It's a heck of a contrast" to 25 years ago, observed Mr. Swenson. "I remember the downtown deteriorating significantly."
The city's decline as a retail trade center coincided with Iowa City's rise as a regional shopping mecca, he noted. "It took a long time for the community to stabilize."
Retail sales in Washington and outlying Wellman, Riverside and Kalona were flat or increased slightly from the late '90s until 2006. Riverside Casino & Golf Resort opened that year, bending the retail curve up for all but Wellman.
The casino brought jobs, restaurant sales and free-spending gamblers, while funneling hundreds of thousands of dollars into the county's Riverboat Foundation. The foundation is a major source of grants for downtown revitalization projects, including façade renovations and the new downtown library.
The retail climb has been broad-based, with strength in the automotive, non-taxable service and miscellaneous retail categories. Wellman gained from the addition of two bars, two restaurants and a pharmacy. Kalona increasingly capitalizes on tourism dollars and is home to a new Dollar General.
The gains come mainly at Johnson County's expense, as residents are spending more of their retail dollars locally, said Washington Economic Development Group (WEDG) Director Ed Raber.
"People move here, and come here to shop at big stores, new stores, old stores and downtown stores," he said.
Ms. Grunewaldt said both employees from elsewhere and residents who work in Iowa City shop in Washington County because of the convenience, personal service and ease of getting around. Washington's Fareway Grocery recently added 800 SKUs (stock keeping units) to meet consumer demand, she noted.
One way that Washington County retailers succeed is by offering service that online giants like Amazon can't match.
"It's people you know. It's your neighbor saying 'I can help you with that,'" said Ms. Grunewaldt. "They are finding customers willing to pay for that kind of personal experience."
Homegrown workforce
Non-farm employment in the county reached 8,478 in 2016, up from 6,855 in 2000. Public sector jobs increased slightly, but most of the gain has been in the private sector, which accounts for 6,900 positions.
The construction industry, including truss and wall panel manufacturer Engineered Building Design, structure designer Greiner Buildings, and contractors Delong Construction and Iowa Bridge & Culvert, helped push job growth.
Mr. Raber credits existing business growth and entrepreneurial startups for creating most of the new work opportunities.
"Washington County has a very different local economy," he said. "It's an economy we built. Virtually all manufacturing in the county started with a local entrepreneur."
Examples include SmartScripts, a computerized pharmacy service that packages drugs in individual doses for nursing homes and individuals, and specialty implement manufacturers Vertical Till Injector and Bazooka Farmstar, the latter of which earned a No. 9 ranking on the CBJ's 2014 Fastest Growing Companies list.
The county's unemployment rate fell from 3.5 percent in February to 3.1 percent in March. That's up from 2.9 percent last year, due partly to the final shutdown of Modine Manufacturing, which employed 250 people before closing last year.
Despite growing job opportunities in the county, many residents commute to Iowa City, bringing more than $100 million in annual payroll back to the county. Good-paying jobs next door help drive retail sales and population growth.
Mr. Raber said Washington County is gaining residents "the old-fashioned way" – more births than deaths – and netting population increases with more move-ins than move-outs.
The county's population stands at 22,281, up 577 residents since the 2010 census. Over that same period, several counties to the south have lost population, with Lee County losing 1,247.
ISU's Dave Swenson attributes some of Washington County's population resilience to immigration. At 5.8 percent, Washington County has the largest Hispanic population, percentage-wise, of any county in the Corridor.
Working with builders is a focus for the county's economic developers as they seek to attract more new residents. Housing starts remain at just a third of their pre-financial crisis average of 100 per year.
Mr. Raber is promoting the idea that Washington, Kalona, Wellman and Riverside are "neighborhoods" in the Corridor, and some of the nicer ones at that.
"We're trying to convince the rest of the Corridor that although there's some corn in between, the morning commute time to Iowa City is probably shorter than from North Liberty," he said. "We're not looking for people who want to be in a big city, but if you're looking for complete, interesting vibrant towns with their own life, we've got them."