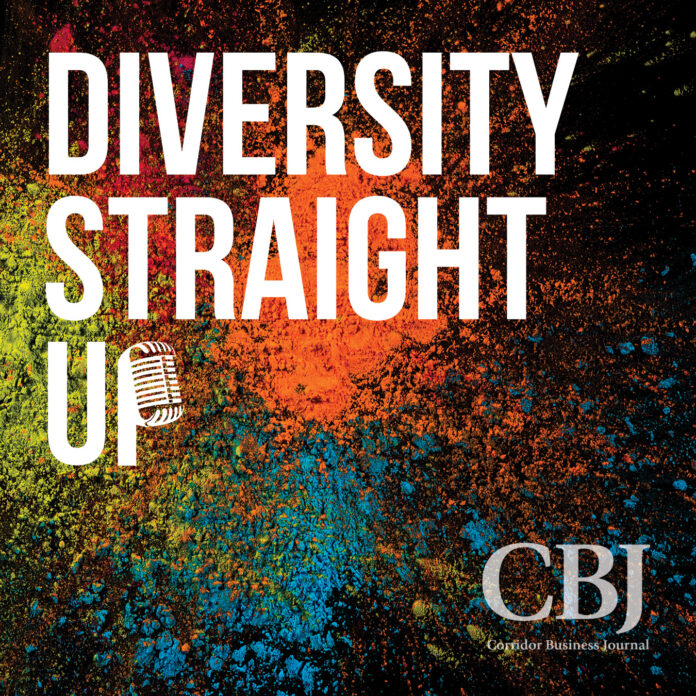 In the latest (remote) episode of the CBJ podcast, "Diversity Straight Up," hosts Sarika Bhakta and Anthony Arrington talk with TaJuan Wilson, associate vice president for inclusive excellence and chief diversity officer with Georgia Southern University, about equity and equality in academia, affecting change as a diversity executive and what it takes to achieve "inclusive excellence."
"From a positional standpoint, people are more inclined to follow your lead when you are sitting at the executive table. So it absolutely matters, and it's critical for success," Mr. Wilson said. "We have folks who think about business and finance every day, we have folks who think about HR everyday — someone should absolutely be at that table who is thinking about diversity, equity and inclusion every day."
Listen below or subscribe to the show at SoundCloud, iTunes, Spotify, Google Podcasts and Stitcher. Diversity Straight Up is presented by Collins Aerospace, the city of Cedar Rapids and Alliant Energy.
About TaJuan Wilson:
TaJuan Wilson serves as the first associate vice president for inclusive excellence and chief diversity officer at Georgia Southern University. He formerly served as special assistant for external relations and associate vice president and chief diversity officer at the University of Iowa. Other institutions Mr. Wilson has served include the Medical University of South Carolina, Missouri State University and Southern Arkansas University. He has been honored with a number of awards, including the MLK Humanitarian Award from the Black History Intercollegiate Consortium, the Federal TRIO Programs Hall of Fame, "20 Under 30" Young Professionals by 417 Magazine, and "40 Under 40" Young Professionals by the Springfield Business Journal.
About the hosts:
Sarika Bhakta is president of Nikeya Diversity Consulting and a Certified Diversity Executive with more than 20 years of experience in leadership, management, talent attraction/retention and resource acquisition/development. Born in Gujarat, India and raised in the Midwest, Sarika empowers leaders to identify their authentic self to be successful change agents in today's global economy.
Anthony Arrington is co-founder and managing partner with Top RANK Professional & Executive Search and Consulting, a search firm focused on helping companies acquire professional and executive-level talent, with a special emphasis on diverse and inclusive leadership. He has more than 20 years of experience in management, strategic planning, leadership and staff development in both the for-profit and nonprofit sectors.