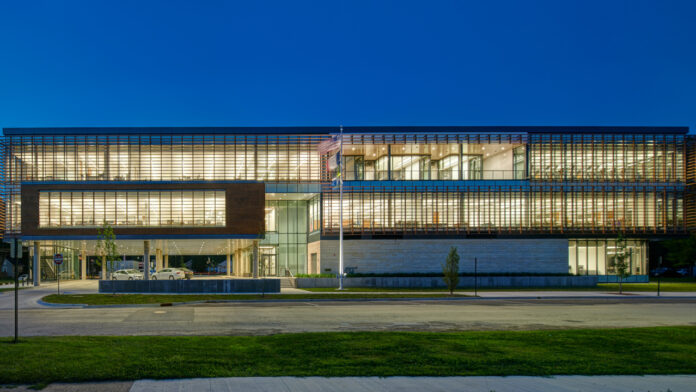 Linn County's Dr. Percy and Lileah Harris Public Health Building was recognized with an Impact Award of Merit by the American Institute of Architects Iowa Chapter during the spring convention in April, according to a news release from OPN Architects.
The Impact Award was developed to honor projects that directly benefit social, humanitarian, community or environmental causes.
The jury selected the Harris Public Health building because it "is representing low-income families dealing with poverty and providing access to resource. It is a very nice project with a nice mission, and we are happy to see it happening somewhere in Iowa. We love that it is not a cookie cutter design, but care was taken to design something for this group that you typically do not see at this level. Very in-depth program. The project has lovely spaces to gather and feels very welcoming and appropriate."
The 63,000-square-foot Harris Public Health Building is used by Linn County's Departments of Public Health and Child and Youth Development Services, so programming for the new facility includes a diverse mix of classroom and childcare spaces, offices, meeting rooms, clinics and labs.
"The building had to be practical and imaginative," said David Sorg, a Principal at OPN and the lead designer of the project. "When you see the community using the building after hours, it is truly giving back. Public health can sometimes come about because you are in a stressful situation, and anytime you can reduce stress you are helping."
Both the child and youth development wing and the public health wing remained operational during the COVID-19 pandemic. Large classrooms allowing social distancing allowed the center to stay open and serve essential worker's children not previously enrolled during this time due to extra space, and materials that were used to cover surfaces such as furniture, walls, counters, and floors are easily cleaned and disinfected. During the August derecho, the gym was utilized as a drop-off and pickup site for resources for families affected by the storm.