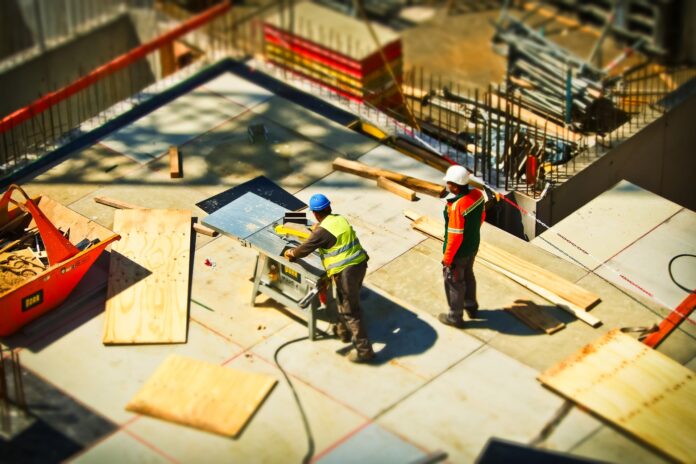 Amid a shrinking labor gap in the construction industry, the Greater Iowa City Area Home Builders Association (HBA) is designating October as Careers in Construction Month.
The decision aims to increase awareness of the opportunities and rewards available in skilled trades. The announcement was made in cooperation with the National Association of Home Builders (NABH) while the Iowa City Area HBA Vocational Training Council (VTC) will continue to encourage youth to enter the industry.
Coralville, Iowa City, North Liberty, Tipton, Washington and Johnson County all proclaimed October as Careers in Construction Month.
"Workforce development is critical to shrinking the labor gap, and young people are at the center of it," said VTC President Tim Ruth of McCreedy-Ruth Construction in a statement. "Construction is a great career, and every school in Iowa should recognize that and be teaching skilled trades. If they did, kids would be introduced to it, find it's something that they like to do, learn it's a career option and explore it. I owe my career to a high school shop class. The importance of a high school Industrial Technology course is far greater than most people give it credit."
Greater Iowa City Area HBA President GT Karr, of Sueppel's Siding & Remodeling, notes the benefits of working in the skilled trades include little to no school-loan debt and competitive compensation.
"Many skilled-trades employers offer paid training and internships allowing immediate access to good-paying jobs without going into debt," Mr. Karr said. "Area employers also offer tuition reimbursement and scholarships for trade professionals who wish to further their careers by attending certified programs at Kirkwood Community College."
Residential construction is bouncing back from the pandemic quicker than other industries, thanks to low interest rates and pent-up demand.
According to a 2021 Home Builders Institute report, there are more than 7.4 million individuals working in the construction industry. In Iowa, constructions accounts for 4.1 percent of the state's GDP, as reported by the Associated General Contractors of America in 2020. However, 60% of builders have reported an employee shortage, with employers wanting more than 309,000 workers still.
NAHB notes that the top 25 percent in most construction-trades professions earn at least $60,000 annually. Additionally, the gender pay gap is smaller in the construction trades. On average, women in the United States earn 82 cents for every dollar a man makes (Bureau of Labor Statistics). Women in the construction industry earn 99 cents for every dollar a man is paid, per The National Association of Women in Construction.