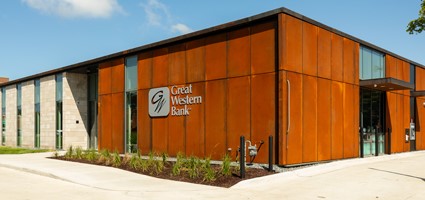 Great Western Bank's newest branch location in Cedar Rapids. CREDIT GWB
By CBJ News Staff
news@corridorbusiness.com
Great Western Bank's results turned sharply into loss territory for the company's second fiscal quarter, as the company recognized impairment charges of $742.2 million in anticipation of market and valuation disruption from the COVID-19 outbreak.
The bank reported a net loss per share of $740.6 million, or $13.25 per diluted share, compared to net income of $43.3 million, or 77 cents per share, in its first fiscal quarter, at the same time, halved its quarterly dividend to 15 cents per share.
The charges included an impairment of $622.4 million from goodwill related to the acquisition of Great Western Bank in 2008 by National Australia Bank, and $118.2 million from goodwill related to subsequent acquisitions.
In addition, the COVID-19 impacts included $73.8 million in several charges for loan and other real estate reserves, including $3.3 million writedown on a hotel owned by the bank that was negatively impacted by COVID-19 pandemic travel restrictions.
While the impairments colored the quarter's results, without them Great Western's results were only moderately lower than the prior quarter, at $29.1 million, or 52 cents per share.
Mark Borrecco, Great Western's new president and CEO, said the bank's stable capital position along with actions to address the COVID-19 impact to goodwill valuation and its increasing of loan loss reserves "appropriately reflect the current environment."
"Through this time of disruption we have remained open for business supporting our customers while implementing our business continuity plan to mitigate the risks of the spread of COVID-19 to our employees and customers," Mr. Borrecco said in a news release. He said the bank processed 2,300 applications for Paycheck Protection Program loans totaling over $600 million as of April 24. CBJ